Windows 8 is the latest operating system of Microsoft. It's firstly announced in CES 2011, two years later then Windows 7 release. First pre-release versions are released in September 2011 and Microsoft published last pre-release in May 2012. Production started in August 1, 2012 and released in October 26, 2012. OS is using the latest Kernel of Windows NT as 6.2. Windows 8 is not a totally performance based upgrade like Windows 7 but a preface upgrade especially for compatibility with touch screens. Microsoft used new "Metro" design for home screen of OS. How many Windows 8 editions are there?


There are 4 main editions of Windows 8 in the market. They are Windows 8 Basic, Windows 8 Pro, Windows 8 Enterprise and Windows RT.
Windows 8 Basic is possible for IA-32 and x64 architectures. It's released for home market segment and including all main new features of Windows 8 like Start screen, live tiles, Internet Explorer 10, Microsoft account integration and Windows Store. Microsoft and many computer producers used Windows 8 Basic for pre-installed computers like notebooks.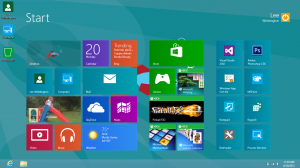 Windows 8 Pro's target is enthusiasts and business market. It's including all main new features of Windows 8. Also it's possible to find options like Remote Desktop, Windows Server domain, Group Policy and Virtual Hard Disk Booting. Microsoft also integrated BitLocker and BitLocker To Go to this edition. Microsoft didn't integrate Windows Media Center to this edition and announced that it will be released as a separate software package.
Windows 8 Enterprise is same with Windows 8 Pro but it's ony not possible to install Windows Media Center add-on. Microsoft targeted Software Assurance customers market with this edition. Also it is the most popular version for MSDN users and Technet Professional subscribers.
Windows RT is the Windows 8's OS release for ARM-based computers. It's coming as pre-installed. It's mainly for tablet PCs. Most important feature of Windows RT is touch optimized versions of Office software like Microsoft Word, PowerPoint, OneNote and Excel. Microsoft excluded features like domain support and Group Policy from Windows RT.


Windows 8 is upgradable from Windows 7. Microsoft allowed only some Windows 7 editions' upgrade to Windows 8. Microsoft only allowed IA-32 bit to IA-32 bit and x64 to x64 upgrade. Also Microsoft allowed Windows XP and Windows Vista upgrades but it's only possible to Windows 8 Pro.
According to announcement from Microsoft, in first week of release, 4 million users upgraded to Windows 8. Microsoft announced it as a success story but many sources reported that it's totally disappointing for company. According to first month report, Microsoft sold 40 million licenses. It's over Windows 7's first month performance. But according to some surveys, devices sold with Microsoft Windows declined %21 when compared to last year. After first days of 2013, Microsoft made an attack to earn more market share and made an 2.6% market penetration with Windows 8. But it was 8.2% for Windows 7 and 3.3% for Windows Vista.
According to Microsoft sources, sales will boost with new devices including Windows 8 and Microsoft Surface new releases. Now there are only 15 devices coming with Windows 8 pre-installed and 5 devices coming with Windows RT pre-installed.
A talet must have DirectX 10 graphics supported graphic card, 10 GB free space, Minimum 720p Camera, at least one USB 2.0 controller, Touch screen supporting and features like assisted GPS to use full feature of Windows RT. Also there's a big discussion on Microsoft's market strategy on Windows 8 editions. According to many tech companies, Microsoft is not labeling the Windows 8 products with "only upgrade" notification and many people are buying this edition instead of full one.