Volkswagen is a worldwide popular German automobile manufacturer. Volkswagen Golf, Volkswagen Passat and Volkswagen Beetle models of the company are in the best-selling cars list of all-time. Volkswagen is using Das Auto (The Car) slogan. Volkswagen project started in 1937 and evolved with Volkswagen Beetle. Company because worldwide popular with Volkswagen Passat in 1973. It was a developed version of Audi 80. Volkswagen always worked with important designers like Giorgetto Giugiaro. Company entered mainstream car market with Volkswagen Golf in 80s. In 90s, company sold Polo, a larger type of Passat and Scirocco. How many Volkswagen models are there in the market?


Today there are 6 categories of Volkswagen in passenger car genre. Compact category of Volkswagen market is including four models as Golf, GTI, Golf R and Beetle. Golf is the small family car of Volkswagen. It enters to C segment in Europe. Beetle is also a legendary series and it's producing since 1930. Original name of car is Volkswagen Type 1. It's also a popular culture icon since 70s.
There's one car in Volkswagen's Minivan category. It's Volkswagen Routan. It's a seven-seat minivan. First production is started in 2008 and first Routan is sold in 2009. It was born from DaimlerChrysler and Volkswagen partnership. Car is produced for US market but it's now possible to see it also in Europe. Car is mainly using Chrysler's popular indoor technologies.
There are three cars in Volkswagen's Sedan category. They are Jetta, Passas and CC. Jetta is a popular series firstly produced in 1979. It's now sixth generation of car selling in the market. Jetta's high selling numbers affected from recall by Volkswagen of America 2011. Recall included 2009–2012 Jetta and Jetta Sportwagen. Main reason for recall was fuel injector problems which may result leak. Volkswagen Passat is the large family car series product of Volkswagen. It's now possible to see sixth generation of Passat in the market and it's producing since 1973. Passat is also known with different names in different markets like Volkswagen Quantum, Volkswagen Carat and Volkswagen Corsar. Volkswagen announced that 2013 model Passats will enter into Middle East market.
Convertible category of Volkswagen market has 1 model. Its Volkswagen Eos. Car is a four-seat retractable hardtop coupé convertible. Volkswagen was not producing coupe since 1995 and Eos is firstly introduced in 2006. It's possible to see model mainly in North America, Australia, New Zealand and Europe markets.


There are two cars in the SUV category of Volkswagen. They are Volkswagen Tiguan and Volkswagen Touareg. Tiguan was producing by Auto 5000 then Volkswagen started to produce model. First production started in 2007. It's especially for Europe and North America market. Model sold over 700,000 cars since 2007. Volkswagen also use Tiguan as a test model in new technologies and Tiguan HY Motion working on hydrogen fuel cell is announced in 2007. The Volkswagen Touareg is producing since 2002.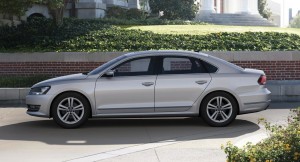 Car's production idea is made by Porsche, Audi and Volkswagen Group together. There are various engine options for model and a face lift is applied in 2007. Touareg's main market is Europe. Volkswagen also used ads for creating a market in Canada and USA but couldn't achieve it because New Beetle of Volkswagen stuck on snowbanks and doesn't have enough technology to get over them. People think Touareg will face the same problems. There's a hybrid model of car announced in 2010.
Jetta Sportswagen is only car in the Wagon category of Volkswagen market. Car is firstly announced in 2007 New York International Auto Show. It's popular with 930 litres high cargo space.