Again Hollywood stars hit the fashion world. In 2012 Hollywood beauties walked on the red carpet with great hairstyles. Some of them became a worldwide contagion and every woman wanted such hairstyles. Stars of 2012 were not afraid of being criticized and tried something new for all. Also some of them tried retro styles and they were very successful also. Especially Sofia Vergara was the hairstar of the year and she gave lesson to everyone for new and beautiful hairstyles. How many popular hairstyles of 2012 are there?


Everything started when Nicole Scherzinger is seen on red carpet with her Pompadour. It was such an old style that most of the people tried to remember style's name. It's true that it needs at least a gallon of wax to stay in such position but it's worth to it.
Then Ali Larter came to an opening with her beautiful casual bob hairstyle. It was the year of shoulder-length hairstyles till Ali Larter but she started a new fashion with so good casual bob hairstyle. It was a good combination of sporty and serious. Also Ali Larter's hairstyle showed that cutting is one of the most important things for a hairstyle.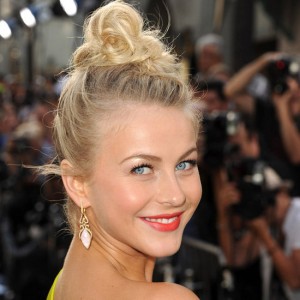 It's very common that runway show models of big companies have no hairstyle in podium. Main reason of it is showing the dress and focusing it. But Dolce & Gabbana's Spring/Summer 2012 fashion show was a firestarter and challenge against this superstition and showed that if dress is good, nothing can steal the focus of viewer but add positive points. Models' hairstyle was a good variation of popular pompadour. Also it was looking so personal that even every model has same hairstyle, they were looking different.
It was the time Sofia Vergara hit the red carpet with her beautiful white dress and long, tousled waves. After night, Allure Magazine wrote that Sofia Vergara's hairstyle became one of the most wanted hairstyles all over the country. Magazines classified the hairstyle in their first pages and called the hairstyle as one of the best for woman with square and round faces. Also hairstyle can be used with long face if some bangs are added.


Ashlee Simpson is both a star and a mother. She has to find a balance of craziness and motherhood. She found the answer on her asymmetrical bob hairstyle. They are both tidy but it's possible to feel something hidden inside. Also Simpson is hiding a side of her face with her hair and leaving a dark side of her.
Topknot is the favorite hairstyle for magazines. It was life the official hairstyle of New York City but people had to wait Julianne Hough seeing it in red carpet. Topknot of Julianne Hough was carrying both casual style but also showing some good cut work in it.
Anne Hathaway is one of the most talked women of 2012 and she will be more in 2013 because of Les Miserables. It's true that new hairstyle of Anne Hathaway is not for all. We loved her with long and shining hair. But she insisted on her "Pixie" hairstyle and at last people started to accept her with this new one. Many Hollywood stars are walking on red carpet with their "Pixie" hairstyle nowadays.
Rihanna first tweeted her new hairstyle and fans thought that it's photoshop. But then she started to go festivals with her partially shaved hair. It's supercool on such a rebellious star but it's not for all. Some women tried this hairstyle but it was not looking beautiful if you are not Rihanna.