FC Bayern Munich is one of the most successful football clubs in the Germany and Europe history. It's now the most successful football club of Germany in statistics and also has various sports branches. Bayern Munich was found in 1900. Club was not a popular one since they won first national championship in 1932. After choosing to Bundesliga in 1963, they made a great career with developing success. Especially period with legendary footballer Franz Beckenbauer was unforgettable. Club built one of the most modern and beautiful stadiums of the world named Allianz Arena. Team's colors are same as Bavaria's colors red and white. Bayern won various championships in tournaments. But UEFA Champions League cup is the most important one ever. How many UEFA Champions League cups Bayern Munich has?


After found in 1900 Bayern Munich was not an assertive club. But Nazi occupation of Germany changed the destiny of them. Club's president and coach was Jew and they run away from club. Club started to be known as "Jew's club". This nickname changed everything for club and they decreased the level of their footballers from professional to semi-professional. But footballers and club never left the fight. After a period, Germany heard their names again when they won DFB-Pokal cup in 1957. In this period young players Franz Beckenbauer, Sepp Maier and Gerd Müller who will be legend than growth in club. It's known one of the football miracles that Bayern Munich won the European Cup Winners' Cup in 1967 after beating Rangers.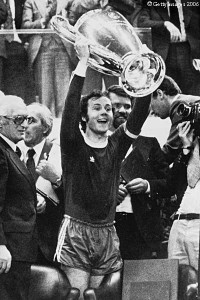 Bayern Munich won their first European Cup in 1973-74 season. Bayern Munich started this season with a shocked 4-4 draw with Sweden Club Åtvidaberg. After 3-1 won in first match, they lost with the same score in away game. After penalties Bayern Munich went to next tour. Then club beat Dynamo Dresden with 4-3 and 3-3, CSKA Sofia with 4–1 and 2-1. In semifinals, team against Bayern Munich was the surprise of year Újpesti Dózsa from Hungary. After an away game on 1-1 , Munich beat Dózsa 3–0. Final was against Atlético Madrid. Madrid had stars like Luis Aragonés and Adelardo. After shocking goal of Luis Aragonés in extra time 114, Schwarzenbeck scored a last minute goal. There were the rules that if two teams are draw after extra time, game will replay again. In the replay match on 17 May 1974, Bayern Munich beat the Madrid 4-0 with the goals of Uli Hoeneß and Gerd Müller.
It was the most shining years of Bayern Munich. They again won European Cup in 1974–75 season. Bayern Munich beat Magdeburg, Ararat Yerevan, Saint-Étienne while coming to final. Opponent on the final was Leeds United and Leeds were very strong and they beat Barcelona on the semi-finals. After a hard 70 minutes, Franz Roth scored on 71 and Gerd Müller scored on 83. Final was 2-0 and Bayern Munich won their second European Cup.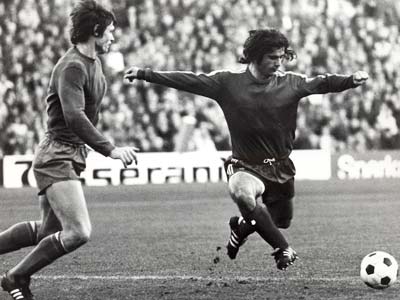 1975–76 season was some problematic for Bayern Munich in Bundesliga but they didn't left European Cup. Bayern beat Jeunesse Esch, Malmö, Benfica and Real Madrid while coming to final. Opponent on Final was Saint-Étienne. Saint-Étienne had a strong squad with stars like Ivan Ćurković, Jacques Santini and Jean-Michel Larqué. Franz Roth's goal on 57 brought the third European Cup of Bayern Munich on three years.


Last victory of Bayern Munich was in 2000–01 UEFA Champions League season. Bayern beat Helsingborg, Paris Saint-Germain, Rosenborg on the first group stage. In the second group stage they beat Arsenal, Lyon and Spartak Moscow. In quarter finals, opponent was Manchester United. Then they beat Real Madrid. Final was between Bayern Munich and Valencia. Munich took the cup after 5–4 won on penalties.