El Clasico is the name of any match between Barcelona and Real Madrid and one of the biggest football rivalries in the world. El Clasico has deep and political history but today it's mostly about nationalist aspects. El Clasico mainly started in 30s. But the first fire starter of big rivalry started on Di Stéfano transfer attempt on 50s. Real Madrid and Barcelona was watching the Argentinean player Alfredo Di Stéfano. After some controversies about agreement, Fifa accepted that two teams will share the rights of footballer. But Alfredo Di Stéfano went to Madrid and scored against Barcelona. Then Barcelona claimed that Madrid cheated on this transfer. There has been also lots of similar problems between teams and they chose problems on the field. How many times Barcelona Fc won El Clasico?


Barcelona is leading in El Clasico with 104 wins on all matches. Real Madrid won for only 91 times. While Real Madrid scored 406 goals, Barcelona scored 433 goals totally.
Some sports writers and supporters only accept local matches between Real Madrid and Barcelona as El Clasico. Because they believe that local matches have a special atmosphere. Barcelona also leads on local El Clasico. Barcelona won for 69 times while Real Madrid has 62 wins.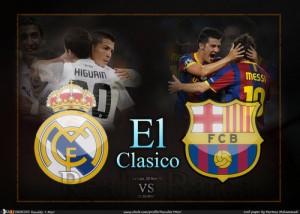 It's possible to see Barcelona's lots of big victories over 5 goals in history. First big victory of Barcelona on El Clasico was 7–0 on 1913. Then 7–1 in 1920 and 7-2 in 1950 followed it. Barcelona beat Real Madrid as 5-0 on 5 times. Last one was on 29 November 2010. Also Barcelona beat Real Madrid on Santiago Bernabéu Stadium two times over 5 goals. One of them was in 1975 and other was 2-6 on 2009.
Every time footballer transfer between teams are a big event and newspapers write it for months. Most important transfers between teams are Bernd Schuster in 1988, Michael Laudrup in 1994, Luís Figo in 2000 and Javier Saviola in 2007. But the most controversial one is definitely Luís Figo's transfer from Barcelona to Madrid. Barcelona supporters throw a pig's head to Figo in an El Clasico and it was an unforgettable moment for rivalry.

There were also lots of unforgettable moments for El Clasico in years. One of them was Lionel Messi's first hat trick against Real Madrid. In 2007, Messi was going to be a star in football world and this hat trick accelerated it. Especially his third goal by passing three Real Madrid players was an unforgettable moment for El Clasico.
Another unforgettable moment for El Clasico was 2-6 in Santiago Bernabéu Stadium. Real Madrid was coming to match with an 18 match undefeated period and stars like Kaka and Ronaldo was on their brightest form.
2001 El Clasico was also an unforgettable moment in El Clasico history. After Real Madrid lead 2-0, Rivaldo made two goals and at last seconds Rivaldo scored for 2-3. But goal is disallowed. Then all people accept that it was a legal goal.
Ronaldinho has a special place in El Clasico history. Especially Madrid fans' ovation on him after third goal on Santiago Bernabéu Stadium was unforgettable.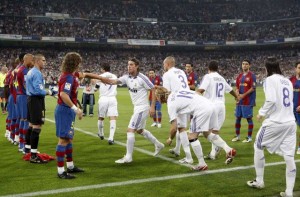 Another ovation event on El Clasico was 2007-08 season. El Clasico was after Real Madrid won the League title and all Barcelona players applauded Real Madrid players before the match.
Also there are unforgettable goals in El Clasico. One of them is Johan Cruyff's goal against Real Madrid in 1960's 0-5 beat. Also Diego Maradona's goal from 50 yards and Lionel Messi's goal in Champions League semifinal were unforgettable goals in El Clasico history.