Beyoncé Giselle Knowles known as Beyoncé is a worldwide famous American singer. She's also song writer, recorder and actress. She started her career in Destiny's Child and then in 2003 she released her first solo album "Dangerously in Love". Beyoncé awarded for her works almost every year. How many awards are there Beyoncé won?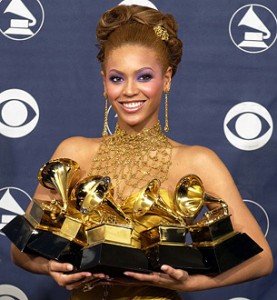 Beyoncé awarded for Grammy awards, MTV Video Music Awards, American Music Awards, Billboard Millennium Award and more. All her albums sold millions and movies she played made big grosses all over the world.

She started to earn solo awards first with "Dangerously in Love" in 2003. Album was one of the most selling in the world. Especially singles of the album "Crazy in Love" and "Baby Boy's" success earned her 5 Grammy awards.
Her second album "B'Day" was also successful as "Dangerously in Love" in 2006. After successful singles in 2006 to 2008, she earned six Grammy awards in 2010 with "I Am… Sasha Fierce" album. She also broke the record for "one singer won most Grammy award" in this night.
She now has Grammy Awards of 16, MTV Video Music Awards of 11, American Music Awards of 4 and Billboard Millennium Award of 1.
She also acted in "Dreamgirls" movie. Role of Beyoncé in this movie earned her two Golden Globe nominations. Beyoncé also take part in ads of brands like L'Oréal, Pepsi and Nintendo. She gave birth to a daughter. Her name is Blue Ivy Carter. She's now on the studio for her new album. New album will be released in 2013 as the gossips.