100 m run, The 100 metres or 100-metre dash with its official name is one of the most prestigious races in the world. It's a natural sprint race. Race contest started on 1896 Summer Olympics for men. It's started in 1928 for women. A record on this race means record breaker athlete is calling as "the fastest man/woman in the world". It was a classic that a 100 m athlete gets his top speed on 50 or 60 meters and then slows down. But in recent year, it's possible to see different tactics. How many times 100 m race world record has been broken?


International Association of Athletics Federations started to record races officially in 1912 so it's not possible to accept the records before this time. International Association of Athletics Federations accepted that Man's 100 meter world record has been broken for 67 times.
There are some controversies about it but first record on IAFF period started with Donald Lippincott's 10.6 in 1912. It was the 1912 Olympics. It was the time records were catching by hand watches and some believe that he ran 10.5.
Then in Commonwealth Games of 1930, Percy Alfred Williams broke the 100 m world record with 10.3. He broke record with a pulled thigh muscle injury and he never run so complete again in his life.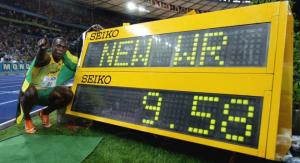 People waited for six years till the record has been broken again. Jesse Owens decreased time to 10.2 in famous Berlin Olympics. It was the time Nazi officials were making propaganda that Aryan Germans are the best nation in the world and ethnic Africans are inferior. It's a rumor that after Jesse Owens' world record, Hitler left the arena and he didn't want to hear anything more about Berlin Olympics. Also it's a truth that Hitler skipped all further medal presentations after Jesse Owen's world record. After world record, Adi Dassler the owner of Adidas came to Olympic Village and became first sponsor for an African-American athlete.

100 meters world record waited for 20 years to be broken since Jesse Owens. It was again a game of faith that record again has been broken in Germany. American athlete Willie Williams run 100 meters in 10.1 seconds.
Hitler couldn't see it but a German athlete Armin Hary broke the world record on 100 meters with 10.0 in Switzerland. It was the time split second started to be keep automatically. So it's not official but Armin Hary's known degree is 10.25.
People started to wait an athlete who will run 100 meters under 10 seconds. There were some researches before record has been broken and researches named 10-second barrier was telling that a human cannot break this barrier. Jim Hines firstly runs 9.9 in USA Outdoor Track and Field Championships. This night is known as Night of Speed 1968 because Jim Hines and Ronnie Ray Smith accepted run on 9.9 seconds. It was the time fully automatic timing was on the way of acceptance and a trial of Accutrack timing device was made. Test device registered Hines run on 10.03 and Smith on 10.04. After a few months, he broke world record in 1968 Olympics with 9.89 but it's a controversial topic because then it's changed to 9.95. But it didn't change the reality that Hines was the first man run under 10 seconds.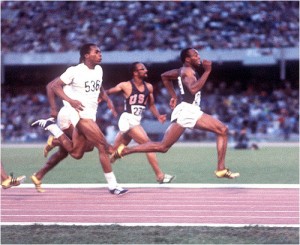 After 1977, IAAF started to use automatic timing systems. Latest record's owner is Usain Bolt. After 9.72 in New York in 2008, he decreased record to 9.69 in same year. Now world record is 9.58 and he broke this record in Berlin on IAAF World Championships in Athletics. Some scientists believe that it's the latest point a human can reach in 100 meters.