Euro 2012 or The 2012 UEFA European Football Championship with its full name is the 14th organization between Europe national teams. Ukraine and Poland will be hosts and organization will start on June 8 with the Poland-Greece match and finish with a final on 1 July. Ukraine and Poland are chosen by UEFA committee on 2007 and they built lots of stadiums and high ways for organization. Three of their stadiums are fulfilling all requirements of UEFA. Countries built 7 new stadiums for organizations and first matches will be played on these stadiums. How many teams are there in Euro 2012?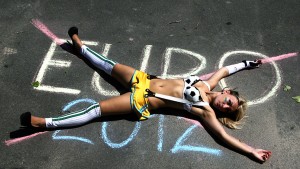 There will be 16 teams on organization. There are four groups in the first stage. First group is Poland, Greece, Russia and Czech Republic. Second group is Netherlands, Denmark, Germany and Portugal. Third group is Spain, Italy, Republic of Ireland, and Croatia. Fourth group is Ukraine, Sweden, France, and England.

Official match ball is chosen as Adidas Tango 12. Ball is known with the features like easy dribble and control. 2010 World Cup's ball Adidas Jabulani was reported as hard to control and dribble.
Slavko and Slavek are the official mascots. They are in the colors of national teams and they represented as twins. There were some controversies before organization's last year in countries because Poland was faster than Ukraine for building airports and stadiums. Also lots of groups like FEMEN made protests about organization. Also raised hotel prices is a problem for organization.