Kangaroos are the symbol of Australia and they are also endemic to this continent. Many Australian worldwide companies like Royal Australian Air Force and Qantas are using Kangaroo in their symbol. Kangaroos are popular with their powerful hind legs and pouch for carrying their babies. It was believed that Kangaroo means "I don't know" in the language of the people of the area but in 70s, John B. Haviland made a research and debunked this myth. Today Australians mostly use Kangaroo word for a group of animals like bucks or joeys. How many species of Kangaroos are there?


There are 4 main species of Kangaroos. They are The red kangaroo, The eastern grey kangaroo, The western grey kangaroo and The antilopine kangaroo. Kangaroos run 20–25 km/h but they can reach speed up to 70 km/h. Their energy-efficient and fast running method is very rare in the nature. According to researches, they are evolved in this way because of long travels to find water and food. They can also swim very well but they don't like to enter the sea because Australian water sources are mostly bog.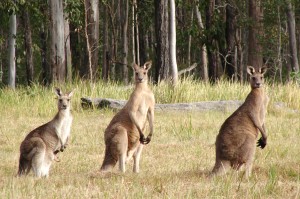 The red kangaroo is the largest Kangaroo species ever. Also it's the largest mammal native living in continent. They mostly live in mainland Australia and rarely seen on rainforest of continent. They are typical with pointed ears, red-brown fur and pale buff. The range of vision for The Red Kangaroo is very high up to 300°. They have a strong body system to survive especially in hot summer days. Their kidneys work perfect at concentrating urine so they can stay fresh and fast. They eat Eragrostis setifolia which is a small and special plant stays fresh for all seasons. They can live in big groups like 1,500 individuals but they mostly live in 2-4 member groups. They are very sensitive to engine noise of vehicles and they can harm small vehicles' windshields so it's possible to see "kangaroo crossing" warnings in many Austalia cities.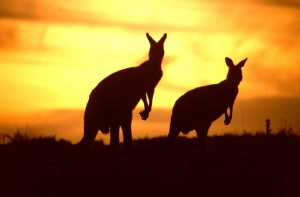 The eastern grey kangaroo is mostly seen in eastern Australia and number of them is today over several million. Australians call them as Forester kangaroo. It's the second largest mammal in Australia. According to researches, adaptability level of The eastern grey kangaroo is higher than The red kangaroo and it's possible to see the result in population comparison. They like to live in coastal areas and it's possible to see them close to big cities. Their characteristic is gregarious so they live in big groups. Estimated population of The eastern grey kangaroo today is 11.4 million.
The western grey kangaroo is mostly found in southern part of Australia. Especially Shark Bay is the common life area for The western grey kangaroo. Also it's possible to see them in Queensland and New South Wales. Australians call them as Kangaroo Island kangaroo. They live in small groups instead of other kangaroo species and their group can increase up to 15 members. They are very popular in TV shows because their fight is very similar to boxing. The classification of The western grey kangaroo is still controversial and different organizations classified many subtypes of The western grey kangaroo in various ways.
Antilopine kangaroo is the kangaroo species live in northern Australia. Cape York Peninsula is the most popular place to see them. They are characteristic with their reddish color above. Today population of Antilopine kangaroo is lower than other Kangaroo types because they are living in the area where settlers mostly came and located. They live mostly in grassy plains but it's also possible to see some rare subtypes in woodlands.