Alcatraz prison is one of the most famous prisons in the world history. It was on the San Francisco Bay's Alcatraz Island. It served since 1963. Now the facilities are using for Golden Gate National Recreation Area. First writings about Alcatraz prison are from 1775 but people believe that it started as prison in 1500s.It used as military and federal prison. There were famous prisoners of Alcatraz like Robert Stroud "Birdman of Alcatraz", Al Capone, George "Machine Gun" Kelly and Arthur R. "Doc" Barker. It was very hard to escape from prison and it created a idiom "Like escaping from Alcatraz". But people always tried to escape from this prison. How many people attempted to escape from Alcatraz prison?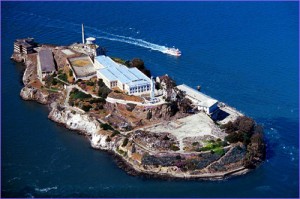 There were 14 escape attempts of 36 prisoners. 23 of them were caught while escaping. Six of them killed on escape and 3 of them escaped and they could never found again.
Only escaped prisoners of Alcatraz are Clarence Anglin, John Anglin and Frank Morris, They made fake walls. They also worked on the music hour. It was so professional that any of the guards understood it in months. Escape from Alcatraz movie was made on this event. FBI announced that 3 men died on cold water but in a MythBusters episode, they said prisoners escaped and didn't die.
There were also other famous attempts but all of them were unsuccessful. Escape attempts like Battle of Alcatraz changed the rules of prison system in America.