Cloud computing would be the future of computing and internet. First ideas on internet was walking on cloud computing and in 1994, companies used cloud as the symbol of internet. Communication companies were offering point to point data transfer in 90s but after the second half of 90s they started to offer virtual private network system which is known as VPN today. VPN was costing lower than any other system in 90s. First workouts in cloud computing started with time-sharing name. There were some works that is not possible to finish in a small period and people used more processors connected with internet. Today accessing to internet is easier than ever and in the close future, it will be accessible from every point of the world. So development of cloud computing is vital. How many profits of cloud computing are there?


First of all, cloud computing is saving time and money. Users don't need to buy very expensive or high quality computers if they only want to connect internet. Also with paying a little and connecting to server means user doesn't have to update any program or antivirus software. Also risk of virus infection is lesser than ever.
Another benefit of cloud computing is accessing your operating system and files from everywhere in the world. You don't need to carry laptops or hard disks. Not only files also settings and other perimeters wait you in the cloud computing as you left. Cloud computing is also more secure than any laptop that cloud computing companies are using the latest security technologies and they are always following for any hack or other problems.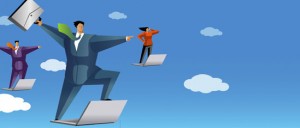 It's also possible to reach cloud computing not only from notebook but also from mobile devices, Ipad and other internet connected ones. There's no need to install big and costing software to access it. It's predictable that there will be lots of devices in the close future that only possible to use for cloud computing and they will be cheaper than ever.
File sizes are increasing every day and storage units are not enough. Popular software and games of today are between 20- 40 GB at least. Biggest hard disk storages for lower price are 1TB and it's very low. Cloud computing is offering more storage than a standard user can achieve. Storage fees are very high and using cloud computing for storage is cost saving.
According to technology news, most of popular web services like Amazon streaming and Netflix will also give service from cloud computing in a close future. It means that internet is turning again to one by one connection from today's system. Also Microsoft introduced Microsoft Office 365 which is a cloud service of Microsoft Office software. Microsoft Office 365 offers Microsoft Exchange Online, Microsoft SharePoint Online, Microsoft Lync Online, Office Professional Plus and Office Web Apps services inside. It's possible to buy this clouding service in various plans like Office 365 for enterprise, Office 365 for small business, Office 365 for education and Office 365 University. According to Microsoft, company will update Office 365 services in 90 days cycle.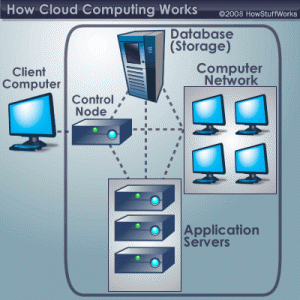 OnLive is both a cloud desktop and cloud gaming service. It's possible to access services from Windows and Mac computers. Also IOS and Android device can access service with app. OnLive is offering gaming experience in 720p format so it needs 5 Mbit/s or faster internet broadband at least. Various big game companies like Warner Bros, Eidos Interactive and Ubisoft signed agreement to serve their games from OnLive cloud computing service and today over 300 games are possible to play on service.