Fourth of July is celebrating as Independence Day in America. It's a federal holiday. Day's meaning is coming from Declaration of Independence in 1776. Since the day U.S.A earned its independence from Kingdom of Great Britain, every year Fourth of July goes with celebrations. Main celebration items are barbecues, carnivals, concerts, sports games and family reunions. Also some politicians make important politics speech. Fourth of July means mainly decorating all cities with patriotic displays for Americans. Americans like to go parties, events and festivals on this day. It's known that some cities have special meaning on the history of American independence and there are also some places locally known as the traditional celebration areas for Fourth of July. How many places will make big parties on Fourth of July?


Boston is one of the important places for the independence history of U.S.A. Boston will celebrate Fourth of July with over 200 big events. Fourth of July is inside the annual Boston Harborfest and municipality created a six-day calendar for celebrations and Fourth of July will be the top point. Besides classical events like fireworks, Chowderfest which people chow down will be a good event. Declaration of Independence will be read from Old State House. Also it's possible to watch Boston Pops Fireworks Spectacular.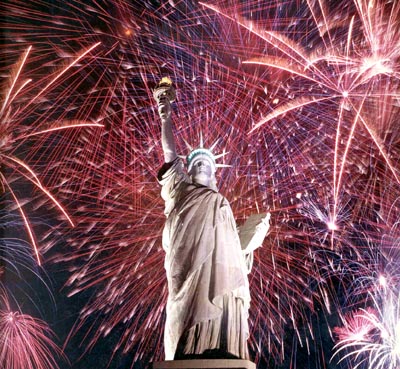 Cape Cod and its close islands will be also a good place for celebrations. Fairs, parades and festivals will be the top points of Fourth of July celebrations in Cape Cod. Barbecue party given in Old Whaling Church of Martha's Vineyard is the traditional and favorite celebration for local people of here. Also some restaurants will cook traditional English food.
Chicago will be also a good place for biggest celebrations. Especially for people who like rock concerts and games may choose Chicago for Fourth of July celebrations. If you like patriotic music, you may choose Lake Michigan. Also Petrillo Music Shell and Navy Pier Beer Garden will be good places for concerts and drinking.
Mount Rushmore will be again the best place for patriots. Lincoln Borglum Museum and Grandview Terrace will be good places to see celebrations. Firework celebrations will be held in night. Mount Rushmore is for you if you want to see faces of leaders like George Washington, Abraham Lincoln, Thomas Jefferson and Theodore Roosevelt in this important day.
Philadelphia will also be flooded by patriots. It's definitely the best place to feel the birth of a nation again. Celebrations will start with visiting city of Brotherly Love as a tradition. Important places like the Liberty Bell and Independence Mall will also be visited. John Legend will also give a concert in night.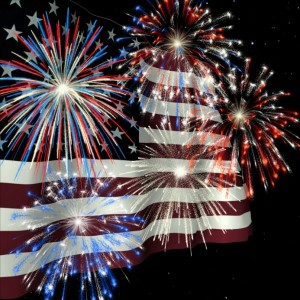 San Diego will be the best place for beer and barbecue lovers. If you want to choose a beach town on this hot summer day, your first choice must be San Diego. But don't forget that Pacific beaches will be too crowd as tradition. Also visiting San Diego County Fair and watching the biggest fireworks party of U.S.A is possible in San Diego.
If your choice is celebrating Fourth of July with an island visit, San Juan Islands and U.S. Virgin Islands are preparing specially for Fourth of July. If you choose San Juan Islands, you may attend to Pig War Picnic. Picnic will be held on Price Street.
San Juan Islands celebrate the Fourth of July in classic and old style mode and U.S. Virgin Islands celebrates older style than San Juan. You can celebrate Fourth of July by drinking a rum like old shipmen in the island. Also Washington, D.C. has good celebration parties.