Photography is one of the newest and most popular arts in the history. It was the 4th centuries BC that Euclid described the first prototype of photo machines. In 1600s and 1700s, first schemes of photo machines and first samples of photos were possible. Chemical photography started in 1820s and "View from the Window at Le Gras" became the first successful permanent photograph in the history. First monochrome photo machines are released to public use in 1900s but it was possible to see some experimental color photos in the last period of 1800s. Today photography art is dominated by automatic professional cameras mostly. But photography art is still living and developing. How many photographs are sold for over 1 million dollars?


Most expensive photo in the history is Andreas Gursky's Rhein II with $4,338,500. It's made in 1999. It's the second photo from River Rhine series of photographer. Photo is praised by all art lovers and writers. Photo is bought by Galerie Monika Sprüth and sold to an anonymous German collector. Sell is made by an auction in Christie's New York.
Cindy Sherman's photo work is sold for $3.9 Million. Name of photograph is "Untitled #96" Title on photo was Cindy Sherman herself. She wore as a retro adolescent. It's signed by artists and labeled as "Cindy Sherman 10/10 1981" According to photo experts, photo is a brilliant experience with emotions and adolescence thoughts. Photo also offers to ask too many questions and each people have their own answers for it. Also according to Ken Tanaka from The Online Photographer website, it's easy to say that $3,890,500 is so high for a photograph but buying it in an auction in Christie's New York means reputation and sign of wealth all over the world. Also it's an "alternative investment way" which cannot be sold easily but never lose its value.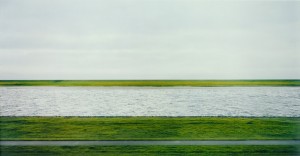 Jeff Wall and his popular photo "Dead Troops Talk" is sold for $3,666,500 in May 8, 2012 in Christie's New York. Artist explained the title as "A vision after an ambush of a Red Army patrol, near Moqor, Afghanistan, winter 1986) (1992)" After this photo, Wall is called as "Goya of the Photography" It was 1990s when Wall created this photo and it was a long studio session to make it. It's one of the most popular photos created in studio but carries the feel of real world. It's possible to see that many history books used the photo as the real image of a war. Photo is sold in Christie's New York for $3,666,500 in May 8, 2012.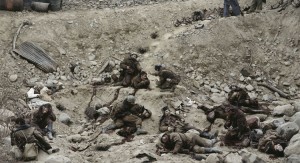 99 Cent II Diptychon is another popular photo of Andreas Gursky. Production date of photo is not clear but it's probably 1999 because Gursky gave 99 cent.1999 name to photo firstly. Photo gives a colorful inside of a supermarket. Perspective of photo is reduced digitally. It's sold in Sotheby in February 7 in 2007. The price for photo was US$3.34 million. Also second and third prints of photo are sold over $2 million.
The Pond—Moonlight is the first pictorialist photograph to sold over $1 million. Photo is created by Edward Steichen in 1904 in New York. It's one of the first color photos using autochrome technique in the history. Also artist used light-sensitive gums while creating the pose. It's sold in February 2006 for US $2.9 million at an auction in Sotheby's New York. It's a very rare photo coming from 1900s in its original form with all titles used while taking it. It has also some version possible to see in museums.