Jennifer Lynn Lopez or Jennifer Lopez with her stage name is a popular singer, song writer, actress and producer. She worked as a back-up dancer of Janet Jackson in her youth. After starred on some movies, she released her first album "On the 6". She's also a powerful businesswoman. She's now working in a fashion line and her own perfume brand. Especially she became very successful on perfume market and released various perfumes. Some of them became classic in a short period. How many perfumes of Jennifer Lopez are there?




Jennifer Lopez released 19 perfumes totally since 2002. Her first released perfume was "Glow". 2002 was the period that Jennifer Lopez was in her highest level of teenager fans. So perfume targeted this age category. She produced this sweet perfume with Louise Turner. Perfume was not an experimental one. All scents were classic and old tried formulas from neroli on top notes to vanilla in the base notes. But perfume took good critics and caught what it targeted. Also bottle was chic at all.
After "Glow", Lopez released a sexy and flirty perfume "Still" and it became a classic in a short period. All fans found the "Still" feminine and sensual. Top notes of "Still" are white pepper, mandarin orange, rice, apple and earl grey tea. This good and inspirational mixture is prepared by Michel Girard. After Freesia and rose in middle notes, Girard flied high with iris and sandalwood. Some fans claimed that perfume is very similar to classic Tous L'Eau.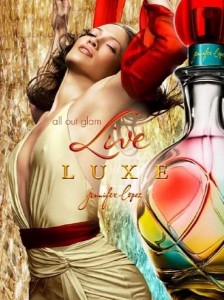 After some thematic perfumes in first half of 2000s, Lopez released "Live Luxe" in 2006. All fans agree that it's very similar to "Ralph" of Ralph Lauren. But this fruity scent is sweeter than it. Claudette Belnavis created a high dynamic smell with ingredients like melon, honeysuckle and amber. Also "Live Luxe" became a classic with its postmodern colorful bottle.
In 2008, Jennifer Lopez released Deseo series. Deseo for men was the first perfume Lopez released for men. Lopez announced that she's inspired by her garden while creating this perfume series. Perfumes' diamond style bottle also became classic. Lopez and her team decided to use Bamboo leaf as top note and it was a high experimental trial. Also yuzu and Sicilian Bergamot added to this experimental top note. Team used floral pattern to equalize powerful scent at middle notes. Sandalwood is highly used in base notes for powerful effect.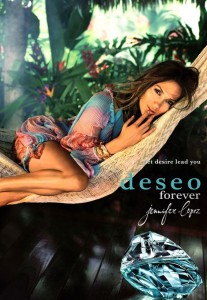 Deseo for Men is the first perfume of Lopez for men. Jim Krivda and Ellen Molner helped Lopez in creation period. Red berries and lemon on top notes is enough to hit on the first smell and after experimental tobacco leaf on middle notes, amber is a good equalizer in base notes.
After Deseo series' success, Lopez and her team targeted Asian market and devoted Deseo Forever to Asian women. Also Lopez created an exotic ad campaign for this perfume. Lots of Lopez's Asian fans liked it but some of them found it very light. Also turquoise color of diamond shaped bottle attracted Asian women.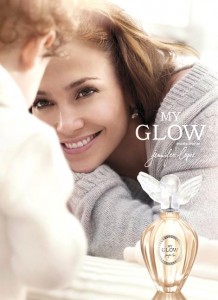 After various perfume series, Lopez made a strict return to "Glow" series. L.A. Glow by Jennifer Lopez was the leading perfume released in this new Glow wave. First of all, it attracted women with its modern purple bottle. Lots of women made a blind-buy on the first day of release. Using musk, tropical cream and amber blend created this classic at last.
J.Lo also released perfumes from same series like Glowing and Eau de Glow. There will be new perfumes of singer in 2013 from the same Glow series.