United States is one of the countries with most gun owners. US Laws force some people to have at least 1 gun. They are , law enforcement agencies, military service people and museums. According to Gun law in United States, US residents have right to keep and bear arms. It's located in Second Amendment to the United States Constitution. Bureau of Alcohol, Tobacco, Firearms and Explosives is making the enforcement of law in US. There are also some handgun bans in some cities of US. How many people have private guns in the United States?


According to FBI records, there are 200 million privately-owned firearms in the country. Once the guns of organization workers like museums, military workers and law enforcement agencies who have forced to buy gun by law are added to this number, it means probably every man has a gun in the country.
There's also a big number of guns which are not officially recorded. The total number of guns in the country with unrecorded ones is approximated as 350 million ones. It means every man, woman and child has a gun in the country.
It's known that many families are buying several firearms like pistols, rifles and shotguns. It's estimated that many families have all series of a popular gun in the country. It means 4 guns of a series in one family at least.
Now the exact number of guns in the country is still unknown because many centers and shops are selling guns and most states don't want registration to buy a new weapon so it's not possible to reach the exact number. Some organizations like BATFE made researches in 1995 and estimated the number as 223 million in the country. It's known that the number increased insanely after 1995.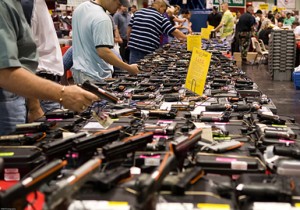 The Small Arms Survey is made by Graduate Institute of International Studies in 2007 and they estimated the total number of guns in United States is 270 million but survey didn't explain detailed information about the types of guns in the calculation.
After discussion on total gun number in country, National Firearms Administration (NFA) which is holding and organizing the gun registry applications announced that total registry applications from Nov 1998 to Nov 2012 are 156,577,620.
With this high numbers of guns in the country, Gun violence is the biggest political issue in the country. Especially poor urban areas are the common places for gun violence and events are mostly connected to gangs. Against all strict gun policies, there are an increasing number of high-profile mass shootings in the country now. According to official numbers, 358 murders were involving rifles in 2010.
United States history is also history of president assasinations. Many names like John F. Kennedy, William McKinley and Martin Luther King are killed by guns.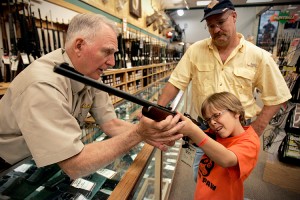 Beside mass shootings, school shootings and more, US saw incidents like Beltway sniper attacks. A man and his son killed ten people and injured many by sniper in the Washington Metropolitan Area in October 2002. Also 2003 West Virginia sniper hit the country and it's discussed on TV for months.
According to United Nations Office on Drugs and Crime, in 2009, 66.9% of all US homicides were made by firearms. According to official numbers, 52,447 deliberate gunshot injuries in the country. The number of accidental non-fatal gunshot injuries is over 23.000.
There are many organizations trying to reduce and finally stop arming movement in the US but according to numbers, they are not successful and in 2050, each person in the United States will have at least 2 rifles personally.