It was April 19, 1995 and 9:02 a.m that a 5,000-pound bomb exploded in front of Alfred P. Murrah Federal Building in Oklahoma City. It was hidden in a Ryder truck. Explosion was so big that some buildings are collapsed. Terry Nichols and Timothy McVeigh were responsible for Oklahoma City Bombing. Till September 11, 2001 World Trade Center attack, it was deadliest terrorist attack ever in the U.S history and it's still the one produced and made in the borders of U.S. How many people died in Oklahoma City Bombing?


168 people died in Oklahoma City Bombing. 19 of them were children. According to statement, Timothy McVeigh planned and made this bombing because he was angered to FBI and other federal buildings. He decided to make this bombing after he heard Waco tragedy.
He decided to make the bombing in the second anniversary of Waco disaster. He want help from Terry Nichols and many other friends of him. He started to buy ammonium nitrate in September 1994. He loaned a shed and stored them in Herington, Kansas. They started to steal other required equipment from shops in Marion, Kansas.
In April 17, 1995, he rented a Ryder truck. Terry Nichols and Timothy McVeigh loaded the truck with bomb. It was close to 5,000 pounds. In April 19th, he rode the truck with bomb in front of Murrah Federal Building, lit the bomb's fuse and left it there.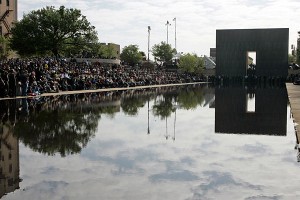 It was 09.02 am when explosion is started. Most of the workers of Murrah Federal Building were on their job and their children were going to daycare center. Entire north face of Murrah Federal Building went into collision and dust.
After explosion, search for the truth is started. A highway patrol officer caught the Timothy McVeigh while he was driving without a license plate. Also he found that Timothy McVeigh is carrying an unregistered gun. Police arrested Timothy McVeigh cause of firearms charge.
Police department made an investigation and found all traces back of Timothy McVeigh when he bought items and other equipment. McVeigh was convicted of murder in June 3, 1997. He was sentenced to death in August 15, 1997. He was executed in June 11, 2001 by lethal injection.
Terry Nichols is caught two days after explosion and questioned for his place in Timothy McVeigh's plan. A federal jury found him guilty and he was sentenced to life in prison.
Also Michael Fortier, who testified against two bombers, fined $200,000 and received a 12-year prison sentence. Polices understood that he knew the plan of Timothy McVeigh and Terry Nichols but he didn't inform the police for the plan.


Explosion was so strong that it damaged 324 buildings totally in sixteen-block radius. Also it destroyed 86 cars and broke the glasses of 258 nearby buildings. Total damage was $652 million.
Official investigation of Oklahoma City Bombing was the biggest criminal investigation ever in the US history. FBI talked over 28,000 people and collected over 3.5 ton evidences.
After explosion, Antiterrorism and Effective Death Penalty Act of 1996 is passed. Also security over federal buildings are increased.
In memorial, there's a pool with two doors. One door is inscribing enter in 9:01 and other inscribes exit in 9.03.
Today there's a memorial in front of Murrah Federal Building to remember the tragedy. Pool is the moment of explosion. There are stone and bronze chairs on the memorial also. It's one chair for each person lost. There are also smaller seats for children died in the explosion. "Survivor tree" is on the opposite side and it's for survivors of blast.