Jack Nicholson is one of the most famous actors over the world. He is the king of neurotic characters. He also loves to play humorous man. How many Oscar nominations Jack Nicholson won?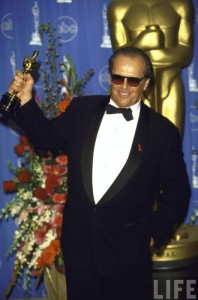 John Joseph "Jack" Nicholson was born in 1937 and still playing in movies.  Nicholson is nominated for Academy Award at twelve. He also nominated Academy Award for Best Actor for twice. He also has Academy Award for Best Supporting Actor for one.

Jack Nicholson's first nomination of best actor was for "One Flew Over the Cuckoo's Nest" movie in 1975. It was an unforgettable performance by Nicholson and movie is a classic now.
Nicholson nominated secondly for "As Good as It Gets" movie in 1997. It was a type of romantic comedy and lots of Nicholson fans don't like Nicholson on this role. But he played again an unforgettable role and took the award.
"Terms of Endearment" movie that Jack Nicholson awarded as Best Supporting Actor was a drama. While Shirley MacLaine took the Best Actress award, Jack Nicholson's role was an indicator for it.
He also won 7 Golden Globe Awards. Besides the awarded roles, he has lots of unforgettable roles in some movies. One of them is Easy Rider. He had a little part in this freedom and motorcycle movie but he shined near the Peter Fonda and Dennis Hopper. The Shining is a classic horror movie with Jack Nicholson. He played also great movies like Batman, A Few Good Men and About Schmidt. His last notable movie was Martin Scorsese's "The Departed". He was Francis "Frank" Costello on this spy movie.