Nuclear weapons will be the end of world according to scientists. There are some works on nuclear weapons since the first years of 1900. World had seen first nuclear bombing in Japan, Hiroshima. So now countries are trying to reduce the nuclear weapon amounts on them. How many nuclear weapons are there in the world?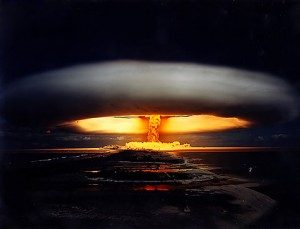 Nuclear weapons are talking so much today because Iran is making some development steps in their nuclear plants. They are working on it since 1950s but now all countries are trying to decrease amount and stop the development in Iran. No exact reports how many nuclear weapons Iran has.
Today, Russia has biggest nuclear weapon inventory in the world. Some independent researchers say it's over 13.000 totally. Russia's nuclear power is in the control of The International Atomic Energy Agency but some claim that there are hidden bases.
Second biggest inventory is on the United States. United States have over 9.000 nuclear warheads. After cold war country decreased the number but it's higher than need as The International Atomic Energy Agency's report.
France has the most inventory of Europe on nuclear warhead topic. Country has over 300 nuclear warheads. Also there are claims about England and Germany but there's no formal report about them.
Asia countries have more and more nuclear warheads. China has over 200, Pakistan has 90, India has 80 and North Korea has 10.
Also Israel has over 70 nuclear warheads and some of the is missiled to Iran and Iraq.