The Mercedes-Benz CLA-Class is the four-door sedan category car series of Mercedes. Company is classified car in its compact executive car category. It's firstly announced in North American International Auto Show. There are many different models in the series with petrol engines and diesel engines. Company aired its first ad on Mercedes- Benz CLA on 4th quarter of Super Bowl XLVII. Kate Upton was the model of the ad. According to announcement from company, car will be first released in Germany and then started to be shipped to America. Company will announce the price close to release date in America. How many new features of Mercedes-Benz CLA are there?


Next big one is coming from Mercedes and it will hit the showrooms. It was very exciting to see Mercedes is entering the compact sedan market but no one realized it will make such a strong hit in the market. The New CLA is appeared only one in an ad but it was enough to hit the customers.
Mercedes will enter the market first with two basic models of Mercedes CLA. One of them is all-wheel drive CLA 250 4MATIC and other is the front wheel drive CLA 250. Both all-wheel drive CLA 250 4MATIC and front wheel drive CLA 250 will have 2.0-liter turbocharged inline four. And by connection of 7-speed dual clutch automatic transmission, they will have 208hp and 258 lb-ft under their hood.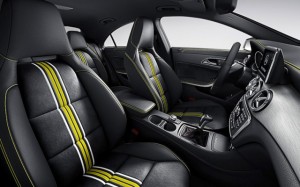 Mercedes CLA will be released like all modern Mercedes models in the USA. It will have 7 air bags and other security standards of Mercedes like ASR, ESP, BAS and ABD. Also according to sources, Mercedes will add many new features to Mercedes CLA as adaptive brake with hold function, developed attention assist and collision prevention assist.
Mercedes company also didn't forget sport package lovers. Buyers will have a chance to buy sport package. Mercedes included AMG bodykit in its sport package and this bodykit is offering a totally new and different grille insert, larger brakes, 18-inch AMG wheels and aggressively styled bumpers. It will cost $2,000 for buyers.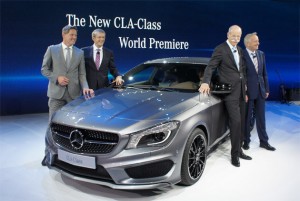 Also it's possible to find a premium package of Mercedes CLA. It includes SiriusXM Satelite radio, garage opener, heated seats and a Harman/Kardon sound system. According to sources, Mercedes indicated the price of premium package on $2,200. Buyer can also add Mulitmedia Package to their car from $2,300. Fresh new package of Mercedes CLA will be Driver Assistance and its price is $2,250. If buyers need standalone options, they can also buy "Panorama Sunroof" and Bi-Xenon headlamps or leather upholstery. Sunroof is $1,480, headlamps is $850 and leather upholstery is $1,200.
There are many discussions about MSPR of Mercedes CLA in the USA.
Germany MSRP of 120hp 1.6-liter turbo'd CLA 180 is €28,977 which means close to $40.000 in USA. But it's known that Mercedes never match the prices of Europe and USA. They add or eject some features according to driving traditions, rules and environment in different continents and according to forums, price will be close to $30.000 in Europe. Mercedes- Benz announced that it will announce the price on a close date to Mercedes CLA's US release.
Mercedes made first trials of new Mercedes CLA in Budapest, Hungary in 2012. After success on experimental drives, Mercedes- Benz started the production on the same facility which is known as "Kecskemét plant" of Hungary. According to sources from Mercedes-Benz, company is very assertive on new Mercedes-Benz CLA and they will release new ads and they will hit the new car market categories with this series and new releases.