Madagascar is a franchise of DreamWorks Animation. There are movies, games, audio and more created in this franchise. Most popular items of franchise are movies. Main topic is four Central Park Zoo animals and their adventures all over the world. Main characters of movies are Alex, Marty, Melman and Gloria. First movie of series released in 2005 and it took mix reviews from viewers and critics. But it was an important success of debut movie as 2005 is the year of Shrek. How many movies of Madagascar are there?


There are 3 movies of Madagascar. They are Madagascar, Madagascar: Escape 2 Africa and Madagascar 3: Europe's Most Wanted.
First movie of series is about four animals of Central Park Zoo, their shipping back to Africa and falling to Madagascar Island after a shipwreck. It was planned as an introduction movie of series and became successful on it while catching the adventure and fun. Movie recognized main characters Alex the Lion, Marty the Zebra, Melman the Giraffe and Gloria the Hippopotamus. But the main surprise of movie was The Penguins. Movie took good critics but The Penguins earned special fans. While movie is taking mix reviews from critics, it gained a huge success on gross. Movie grossed $47,224,594 in its first week and surprised all movie authorities. Film totally gained $532,680,671 gross and became one of the highest-grossing movies of DreamWorks.
Series' second movie Madagascar: Escape 2 Africa is released on 2008. It was known with the name "Madagascar: The Crate Escape" because official trailer name was that but in the movie release name changed to Madagascar: Escape 2 Africa. Movie criticized as a stronger movie than Madagascar 1. Movie took good critics from newspapers because used tone in the script was not a complete cliché. Movie's worldwide gross is $602,308,178. Also its soundtrack with funny lyrics became a hit. Movie released as DVD and Blu-ray Disc. Two editions became 1th on the lists. Also a video game of movie is released.


Series' 3th movie Madagascar 3: Europe's Most Wanted is released in 2012. It's the first 3D movie of series. Movie's premiere is made on 2012 Cannes Film Festival and it's a sign that Madagascar became a popular culture icon. Movie took good critics and it is the first time a Madagascar movie took over %70 from Rotten Tomatoes. Main story of 3th movie is continuing from 2th movie. Movie starts with a nightmare of Alex and action scenes with emotional background are possible all for the movie.
Last interviews showed that Madagascar movie series finished with the Madagascar 3: Europe's Most Wanted. But The Penguins of Madagascar series will go on. There are lots of rumors that there will be a movie he Penguins of Madagascar in 2015. Also a Valentine's Day-themed TV special "Madly Madagascar" will be released in 2012.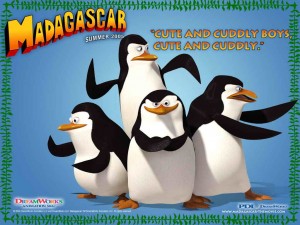 Penguins of Madagascar is also broadcasting as TV series. Series is a good mixture of action, comedy, sci-fi and adventure. First episode released in 2008 as ""Gone in a Flash". Premiere caught 6.1 million viewers and it was a record for its category. Main characters of series are Skipper, Kowalski, Private and Rico. Also it has a great success on merchandising.
DreamWorks made some cooperative works with important companies for merchandising and toy selling. Also two games released specially for Penguins of Madagascar. They are "The Penguins of Madagascar" and "The Penguins of Madagascar: Dr. Blowhole Returns – Again!". Especially THQ's "The Penguins of Madagascar: Dr. Blowhole Returns – Again!" release were for all consoles from WII to PS3. Also Nintendo DS and Xbox 360 versions are possible.