Florida is one of the most popular states in the USA. Capital city of Florida is Tallahassee and largest city is Jacksonville. State has the longest coastline of USA but it also faces storms and hurricanes every year. It's very rare to see Native Americans in Florida today and most of the population is Hispanic and European Americans. Florida became worldwide popular with celebrities residences in area and books they wrote about Florida. Ernest Hemingway, Marjorie Kinnan Rawlings, Tennessee Williams and many other writers wrote popular books about Florida. Especially beach of Florida are worldwide popular. How many beaches are there in Florida?


Miami Beach is one of the most popular beaches in Florida. It's a popular place for various movies. First thing when someone says Miami Beach is celebrities. It's hard to find a time without celebrities in Miami Beach. Also it's possible to find lots of beautiful boutique hotels, restaurants and bars in the area. Sea of Miami Beach is not the cleanest one because of crowd but it's calm and hot every month of year.
Anna Maria Island is one of the most exotic places in the USA and lots of popular beaches like Manatee Beach, Cortez Beach and Coquina Beach covers the island. Florida people call here as "Old Florida." All beaches of island have sugar-white sands. Also water is very clean and it's possible to see the deep even in the far sea. Also there are lots of theme parks and restaurants. Some beaches are only accessible with boats. Beached of island is generally crowd but there are residence areas and these areas are very quiet. Beaches like Cortez are under Australian pine shade.


Longboat Key beaches of Florida are one of the popular places for riches and luxury lovers. Area is including popular beaches like Whitey Beach, Beer Can Island Beach and Longboat Key Beach. This area is not like Miami Beach or similar and not offering crowd, neon signs and similar. All beaches are very quiet and clean. Some of the beaches on this area are private for resort visitors of residences. Whitey Beach is popular for sunbathing. Also it's possible to visit Mote Marine Laboratory & Aquarium in this area.
Lido Key Beaches covers southwest area of Florida. South Lido Beach and North Lido Beach are popular beaches of area with their clean water and natural beauty. Beaches take high temperatures for all months of year. Also it's possible to find award winning restaurants close to beaches. North Lido Beach is not the best place for swimming and people mostly use Lido's public beach for it. Locals mostly prefer South Lido beach and park for picnic and canoeing. It's possible to find some night clubs and exotic boutiques close to beach.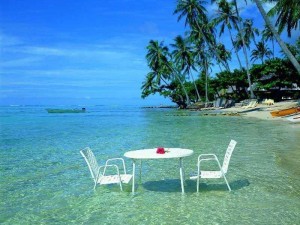 Siesta Key beaches area is very popular in America and it's possible to see ads of them for all time in a year. Slogan of beach area is "World's Finest, Whitest Sand." Also various travel experts choose "Siesta Beach" as the best beach of USA. Beaches are very clean and most of them are covered by exotic flowers and banyan trees. It's possible to see lots of popular beaches also in area like Crescent Beach and Turtle Beach. Most of the Americans come to this area for retirement. There are also popular restaurants like The "Broken Egg" in the Siesta Key beaches area.
Venice Beach area is popular with its clean water and Northern Italian Renaissance architecture in the land. It's possible to see lots of beaches like Venice's Public Beach, Caspersen Beach and Brohard Beach in the coast.