Ultrabook is the new subspecies of notebooks. They are lighter ever a notebook caught. Their size is under the 2.1 cm thick and they are less than 1.5 kg. Main feature is ultrabooks are being on the same power with the standard notebooks on this sizes and weight. Their power usage is also lower than notebooks because they are using low-power Intel processors. Also they have USB ports. Intel announced this new technology on 2011. They have $300 million fund for a 4 year ultrabook project. How many models of ultrabook are there?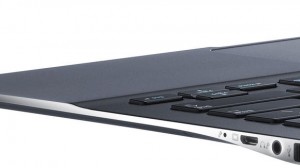 It's hard to say Ultrabook attracted great attention. Main reason of it is price. It's hard to find ultrabooks under 1.500 dollars. Other reason about this low attention is company's advertisement strategy. Intel compared ultrabook with Ipad. But they are so different concepts at all. After ineffective advertisement strategy, Intel started to compare ultrabook with MacBook Air of Apple. But MacBook is an old and popular concept and it's hard to compare them.
Today important computer producers send a trial model to market. Intel's goal is decreasing the price of ultrabooks under 1000 dollars.
Today there are 14 main ultrabook models on the market. Acer has two models as S3-951's subtypes. Asus has two models as UX21E and UX31E. Toshiba, HP, Lenovo and Samsung have two ultrabook models.  Dell and LG have one model.
There are also new models waiting for release like Fujitsu Lifebook Premium Ultrabook, Gigabyte U2442V and Samsung Series 9 15″.