Samsung Galaxy series is now most popular mobile computing devices released by Samsung Electronics. Especially some devices in series like Samsung Galaxy S III broke the sell records. First device was Samsung Galaxy i7500 released in this series. It was also the first Samsung model using Android Operating System. Device is announced in 27 April 2009 and sold as "Samsung Galaxy" in some markets. Also devices in series like Samsung Galaxy Ace, Samsung Galaxy S II and Samsung Galaxy Y became very popular and reached millions of sell. How many models are there in the Samsung Galaxy series?


There are over 50 devices in the Samsung Galaxy series and new devices are on development. There are Phablets, Tablets, Media players and Camera devices are possible on this series.
There are two devices on the Samsung Galaxy Phablet series. They are Samsung Galaxy Note and Samsung Galaxy Note II. The Samsung Galaxy Note is released in 2011. Samsung called the device as Phablet because of its size and features. Rather than big tablets, The Samsung Galaxy Note is offering mobile phone features in big screen. Device came with Android 4.0 and after May 2012, all The Samsung Galaxy Note are updated to Android 4.0.4. It's including 1.4 GHz dual-core ARM Cortex-A9 in N7000 model and 1.5 GHz Dual-core Qualcomm Scorpion in I7003 model. Device is sold over 5 million in world market. Also with some additional devices, companies turned Galaxy Note to a game console. Samsung Galaxy Note II is released in 2012 and has Android 4.1 Jelly Bean. Samsung Galaxy Note II is reviewed as a developed and user friendly version of Samsung phablet series.

There are 8 tablets in the Samsung Galaxy Tablet series. They are called as "Samsung Galaxy Tab" Samsung started the series with 7 inch tablets and then released 7.7, 8.9 and 10.1 inch tablets. There are also some known prototype tablets in this series with 7 inch. Samsung Galaxy Note 10.1 is the most popular device on this category. It's running on Android 4.0. It has a special stylus called as S-Pen. According to reviews, there are many copies of S-Pen in the market but most useful device is still Samsung's one because of its shape. Device is criticized by users because it needs a special addition for HDMI output.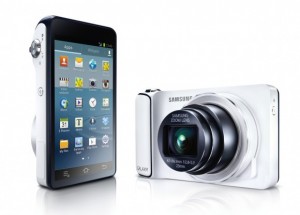 Samsung released only one media player in the Galaxy series and it's called as "Samsung Galaxy Player" in US market. Device is sold as "Samsung Galaxy S WiFi" in European Market. It is sold with the Android 2.2 in Europe. There are 4, 5 and 5.8 inch versions of it. Especially Galaxy Player 5.8 is coming with Android 4.0 Ice Cream Sandwich and it's very popular in the market.
Galaxy Camera is the first Android based camera of Samsung. It's point-and-shoot camera based. First announcement of device is made in August 2012 and slogan of device was "Camera. Reborn" It's a 16 megapixel CMOS sensor with GPS receiver which makes the geotagging possible and easy. Now AT&T stores are selling the device. Also it's allowing to access Google Play for downloading new software.
Samsung announced that company will release more devices in the series. There are some news about a professional new camera device with Android OS in the tech sites but there's no official announcement yet. Also according to tech rumors, Samsung is working on a new mobile phone with three sim installed in one device after Samsung Galaxy Y Pro Duos. Latest devices released in series are Samsung Galaxy Xcover 2 and Samsung Galaxy Express.