Budget rent a car company is set by Budget Rent a Car System, Inc. Company is founded in 1958 in California. Today headquarters of company is in New Jersey. There are over 800 Budget Rental Car points in USA and 600 of them are operating by company while 200 of them are under license agreement. Also it's possible to find Budget rent a car point worldwide. Wendie Malick is the spokeswoman of company till 2011 and it's possible to see her on company's all ad campaigns, discounts and other. How many options are there in Budget rent a car web site?


First of all, Budget's web site is total answer to what a modern looking car rental web site must be. Site has no pixilated pictures, no overabundant ads, no secret ads or no daily slogans. Web site has "bold blue lines" style so eye is easily catching the keyword. It's avoiding pesky wandering eye syndrome that lots of car rental sites get lived.
Location finder of Budget car rental website is very easy to use and modern. You don't have to search your exact location in a long list and only writing the name of place is enough in this developed location finder. Zip code search option is also working well.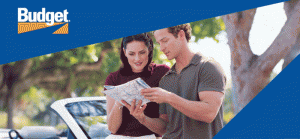 Reservation tool is easy to use in first steps but it needs some extra work on later steps. In first steps, only entering the date and choosing car category is enough but then there are lots of question which can be asked by representatives or pass only. It's not possible to rent pick-ups in Budget website and it's a common situation in USA rent a car companies.
Reservation tool is not offering detailed good features like Thrifty's 360 degree camera view in Budget system. It's true that there are a few websites offering such features but while it's possible to see the car you rent from inside and outside, renting a mystery is hard for most of customers. After reservation steps completed, site also offers toddler seats and GPS system.
On-site fuel discount is available on Budget website and most of the companies like Enterprise don't have this option still. Most of car rental companies want same amount of gas when you leave the car. When you choose fuel discount, it will be counted how much galloon gas you burned and you will pay for it. It's a good option if you are stranger on area or it's hard to find a gas station as possible in various rural areas.


Beside these good features, site lack of some features like on-site check-in, toll passes or satellite radio which must be sector default for all companies.
It seems that Budget rent a car cuts from support service to decrease prices some because support features and quality of Budget are far back from other rent a car companies. First of all, there's no live chat feature in website. Also important information like airport shuttle or pick-up is not possible. Road side assistance packages are not also available on website. Only phone and email support are available but waiting mail in a problematic situation is not a modern way and you must wait on phone for a long time to speak with representatives.
If you are a type of customer who likes to speak with representatives in rent a car locations before renting a car, Budget is for you but if you are willing to use website for making all things online and easier, Budget is not offering detailed features.