Las Vegas is famous for its casinos and entertainment centers. City is known as "The Entertainment Capital of the World" officially. It's also one of the most populous cities in America. Near 2 million people are living on city today. City is mostly hot but there were some rare snowfalls after 2000s. Main tourism attraction of city is casinos. There are lots of world famous casinos in city like Golden Nugget, Binion's Gambling Hall and Hotel and La Bayou. Casinos are mostly in Nevada gaming area. How many casinos are there in Las Vegas?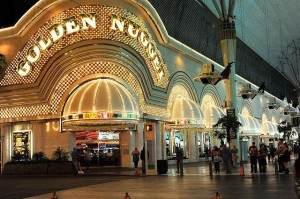 Today, Las Vegas has 122 casinos. These casinos have over 115000 gaming machines and over 4000 total table games. Golden Nugget is one of the most famous casinos in Las Vegas. It's also one of the oldest casinos built in 1946. Main event made this casino so popular is its scene in James Bond movie "Diamonds Are Forever".
Another famous casino is Stratosphere Las Vegas. This place is also a tower. It has also a hotel. Casino is mostly famous for its unusual games like ""crapless craps".  Video poker machines area of casino is used in movies.
El Cortez is also a famous casino in Las Vegas. El Cortez's feature is its atmosphere. Casino's slogan is "Where locals come to play". Mostly Las Vegas residents like to play on El Cortez.
Also The Plaza Hotel & Casino is a famous casino in Vegas. Casino became worldwide famous with the Back to the Future Part II scene.