Arsenal Football Club of English Premier League football is one of the most popular football clubs in the world. Also it's one of the most successful clubs in England history. They were founded in 1886 in Woolwich. In 1913 they started to play on Highbury Stadium. He has lots of First Division and Premier League championships and also played 2006 UEFA Champions League Final. Their rivalry with Tottenham Hotspur is one of the biggest rivalries in football world and it's calling as North London derby. Their value is $1.3 billion now. How many times FC Arsenal became the First Division and Premier League champions?


They have totally 13 championships in First Division and Premier League. Their first championship was in the 56th season of English League in 1930–31 season. League played with 22 teams and totally 42 matches are played. While Arsenal is becoming champion with 66 points, Manchester United was on the last position. They lost their first twelve games and it's still the record. Tottenham Hotspur was on the second division still.
They became champion for three years in 1932–33, 1933–34 and 1934–35 seasons. Arsenal was the first team won championship for three years. On 1936-37 season, Manchester City became champion but one year later in 1937–38 season, they have been relegated while Arsenal is becoming champion.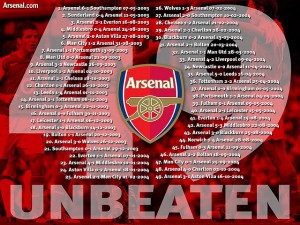 Arsenal fans waited for ten years to become champion again. Arsenal became champion in 1947-48 season and they were the first team won six championships in English League with this championship.
Arsenal became champion in 1952–53 season and it was the one of the most competitive seasons in English League. Arsenal and Preston North End had all same statistics at the end of season, only Arsenal was leading with 0.099 goals. This season is known one of the English footballs milestone seasons because Preston North End's championship may change the history.
Arsenal fans waited for 17 years after 1952–53 season for a new championship. It was an unforgettable season because Arsenal became champion in White Hart Lane of Tottenham. It was again a very competitive season and Arsenal became champion with only 1 point against Leeds United in 1970–71.


Arsenal waited again for 17 years after 1970–71 season. It was 1988–89 season. George Graham created a new team and this new generation waited for three years before championship. Alan Smith of Arsenal became top scorer with 22 goals. Season will be remembered with Hillsborough disaster that 93 Liverpool supporters died in FA Cup semi-final between Nottingham Forest and Liverpool. This tragedy is finished with a Lord Justice Taylor of Gosforth order that stadiums will be all-seaters from the 1994–95 season.
Arsenal became champion in the last year before league's name changed to Premier League. Arsenal made 83 points in 38 games with no lost. After Heysel Stadium disaster in 1985, league teams were not going to European Cups and Arsenal became the first team entered European Cup after punishment. Alan Smith made 22 goals for Arsenal and became top scorer again.


Arsenal became 1997–98 FA Premier League, 2001–02 FA Premier League and 2003–04 FA Premier League champions in recent years. Thierry Henry scored 30 goals for Arsenal and became top scorer on 2003–04 FA Premier League season. Football fans called them as "The Invincibles" because they finished the league unbeaten and it was a very hard to repeatable success for such a strong league. Also Preston North End is called as "The Invincibles" but they also finished FA Cup unbeaten.