Harold & Kumar is a popular movie series in stoner comedy films category. John Cho and Kal Penn are starring on all movies. Series started with "Harold & Kumar Go to White Castle" and made a big impact on theatres. Movies also take critical success while they are lots of similar movies on stoner movies category. Also they gained commercial success in gross but their real success is in home video. Series gained high success and they became one of the first examples that converted to Blu Ray and sold in stoner movies category. How many movies of Harold and Kumar series are there?


There are three movies as "Harold & Kumar Go to White Castle", "Harold & Kumar Escape from Guantanamo Bay" and "A Very Harold & Kumar 3D Christmas".
"Harold & Kumar Go to White Castle" is released in 2004 and it's sold to Europe as "Harold & Kumar Get the Munchies" because there's no White Castle franchise out of USA. Movie is directed by Danny Leiner. Main story is the adventure of John Cho and Kal Penn while they are searching a White Castle restaurant after smoking cannabis at home. Criticizers gave different reviews for movie but viewers liked it with 7.1 in IMDB, % 79 liked it in Rotten Tomatoes. Also some one of the first fan clubs of a movie is set on internet. Famous actors and actresses like Malin Åkerman, Ryan Reynolds and Neil Patrick Harris starred on movie.


After first film's success, New Line Cinema produced second movie and Warner Bros made its distribution. It was the first movie that produced by New Line Cinema and distributed by Warner Bros. Story continues from where it's left in first one and Harold Lee- Kumar Patel's way goes to Guantanamo Bay. Movie gained critical and commercial success but it wasn't on first movie's level. Also it went into political and creates some controversial situations. Neil Patrick Harris and Danneel Harris starred also in movie. Rotten Tomatoes gave %53 to movie and its story took attention of newspapers and magazines like The Chicago Tribune. Scene that gave cultural reference to September 11 attacks is used by newspapers as the title of movie. Newspapers wrote some deep analysis but fans of Harold & Kumar don't like this rising popularity ever. Film is released as DVD and then as Blu-ray Disc.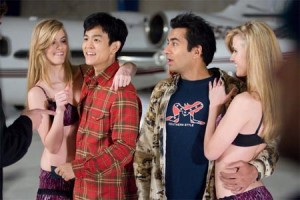 "A Very Harold & Kumar 3D Christmas" is released in 2011 and became the most popular 3D stoner comedy ever. John Cho and Kal Penn are again became heroes of series. Neil Patrick Harris and Danneel Harris also starred again. Story is about Christmas adventure of two. Also some new characters like Ukrainian gangsters added into movie. Rotten Tomatoes gave %69 to movie while CinemaScore is giving "B". Movie went into theatres in a very aggressive week with Tower Heist and Puss in Boots. It was under the expectations but criticizers wrote good reviews. Film is released in 3D but scenes with 3D were very few and some viewers complained about it.
There are some rumors about new movie of Harold & Kumar but stars of movie are now working on other important projects. While John Cho starred on projects like Total Recall and Star Trek, he's now on the set of "Star Trek Into Darkness." Kal Penn starred in popular TV series like How I Met Your Mother and House M.D., he's now working on a Christian Van Burden's project "Dementamania". So rumors about new movie are not realized now and there's still no new contract with any star.