Manchester City is one of the biggest teams of Manchester  in England. They are also one of the oldest football clubs in the world that club founded in 1880.
Manchester City started to gain fame with 1899 Second Division winning. Then in 30s they lost two FA cups at the final. In 1950s Manchester City decided to play on Revie Plan. Main tactic of Revie Plan was forward Don Revie's return to midfield, take the ball and start the attack. They beat Birmingham City with this tactic in 1956 FA Cup final. In the 1960s they started to play for league championship. How many League cups did Manchester City won?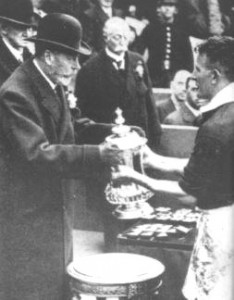 Manchester City won two Football League Cups in their history. First League Cup victory was on 1970. The final match of League Cup was made in Wembley Stadium between West Bromwich Albion and Manchester City. They won 2–1 at extra time and won the title.
Their second League Cup was on 1976. Match took place between Newcastle United and Manchester City. Manchester City won 2-1 and took the title. Dennis Tueart's overhead kick goal is one of the symbols for League Cup.
Manchester City also won FA Cup for 5 times and lost for 4 times on final. They lost League Cup in 1974 final. They won Charity Shield for 3 times in 1937, 1968, 1972 and lost for 4 times in 1934, 1956, 1969, 1973, and 2011. Also They have an Uefa Cup in 1970.