Americans like to live in big houses but after 2000s, it's possible to see that Russians and English people started to buy the most expensive houses in USA. 50 million dollars is the limit that popular magazines set for most expensive houses in country. Most expensive house was 90 million dollars since a Russian investor bought a house in California for 100 million dollars and it's not the most expensive house in the USA. Also it's possible to say that there are some hidden sells in USA according to laws but there are no rumors for over 100 million dollars. How many houses are there in USA sold over 50 million dollars?


Los Altos Mansion is always became a popular place with its 25,500-square-foot area and French Chateau style exterior design. It was March 2011 that rumors started about a new owner of this chateau and negotiations finished on 100 million dollars. Russian investor Yuri Milner bought the house and house became the most expensive single-family home of country. After sell process finished, some magazines wrote the real value of house is $50 million and Yuri Milner paid $50 million more but he never accepted the claims.


NYC Penthouse is the second most expensive house sold in the USA history. It's a duplex penthouse in Midtown, New York City. According to New York Times, two floors in building is bought by an unnamed family and they paid $90 Million for two. Sold floors were still on the construction when they are sold. Magazines wrote lots of musicians and celebrities like David Beckham as owner but none of them accepted the claims.
After Russian investor Yuri Milner bought Los Altos Mansion, all Russian riches turned their attention to USA. And second hot news came from Manhattan. Ekaterina Rybolovleva bought a Manhattan apartment to $88 million in area. According to news, new owner of apartment is daughter of Russian billionaire Dmitry Rybolovlev. It's a 6,744-square-foot apartment. Apartment was using by Citigroup Chairman Sandy Weill and the sell broke the record of New York City but $90 Million NYC Penthouse sell changed the history only two months later.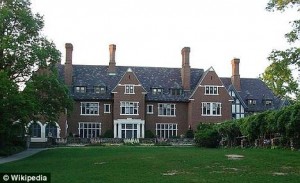 2011 was the year of record sales and Los Angeles didn't wait for a record. Petra Ecclestone bought a mansion in 2011 July for $85 Million. His advocate revealed that she's a 22-year-old British heiress. Owner of house was Candy Spelling who became popular with her marriage to TV producer Aaron Spelling. According to magazines, price started from $150 million but then decreased to $85 Million because mansion waited to years in the lists.
Penthouses in Ritz-Carlton hotels are always some of the most expensive titles in the world. New York City duplex penthouse is also one of them. When casino magnate Steve Wynn bought this penthouse, rumors flied to $200 million but according to public relations specialist of Wynn, 10,882-square-foot space penthouse is sold from $70 Million in May 12. According to New York Times, floors sold are the 30th and 31st floors and listing price was $77.5 million. According to rumors, price decrease because these floors were using as grand ballroom and the living room alone and hotel converted them to penthouse then.
It was a surprise that song writer Denise Rich is selling her popular Fifth Avenue apartment. Price of apartment was $65 million in January 2012. Denise Rich revealed in an interview that 12,000-square-foot apartment is very big for her and her daughters. According to rumors, apartment is sold to a musician but nobody accepted the claims of buying this apartment still.