God of War series is one of the most popular video games series of 2000s. Story of series is based on Greek Mythology. First game is released in 2005. Sony is the right owner of God of War series and games are produced by Sony's Santa Monica Studio. Also a film based on the story of God of War is started to be produced in 2005 but it's still on production stage. Series sold over 21 million copies worldwide and it's one of the most sold video game series in the history. How many God of War games are there?


There are six single-player games in the God of War series. Hero of the series is Kratos. First game "God of War" is released in 2005 for PS2. It's produced by Santa Monica Studio and released by Sony Computer Entertainment. Game became popular soon with its gameplay consisting on combo-based combat, platform and puzzle strategies. It's sold over 4.6 million copies worldwide. According to IGN, it's seventh-best console game ever released. Game gained critical success beside it's commercial success with atmosphere, graphical content and gameplay. Sony released a remastered version of God of War in "God of War Collection" in 2009 for PlayStation 3.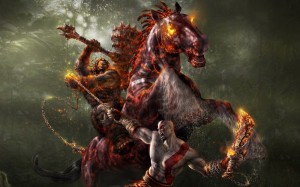 God of War II is produced by Sony Santa Monica Studio and released by Sony Computer Entertainment. It's released in 2007 for PS2 platform. Story of God of War 2 follows first game. Gameplay of God of War 2 is very similar to first installment with some developments. Gameplay is based mostly in combo-based combat. Especially Athena's Blades is the main weapon and player has to learn combo styles to go further in game. For completing boss stages, player has to learn some quick time events and controls also. Many game magazines rewarded God of War 2 as one of the most successful console games ever. Also Complex magazine awarded game as the best game of PS2. Game is sold over 4.2 million copies worldwide. A remastered version is released for PS3 in 2009.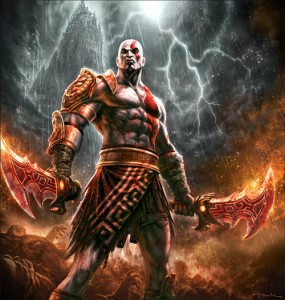 After first two games, Sony released a mobile edition of game. It's published by Sony Pictures Digital in 2007 for Java platform. It's a 2D side-scrolling game with good effects of gameplay and combat strategy. Because many companies couldn't success on Java or mobile installments of their popular game series, there was a prejudice about Java edition of Game of God before but after game released, many game magazines praised the gameplay and atmosphere. GamesRadar and IGN gave 9 stars of 10 to game.
God of War: Chains of Olympus is the first PSP version of game. Game is developed by Santa Monica Studio and Ready at Dawn studios together. Game is published in 2008 by Sony Computer Entertainment. Gameplay is very similar to older God of War games but Kratos use the Blades of Chaos. Also other weapons are coming in the game to Cratos. Game gained commercial and critical success and many game magazines like IGN praised the game and awarded it as the best game in PSP history. A remastered version of game is released for PlayStation 3 in 2009.
God of War III is the first game of series directly released for PS3. It's produced by Santa Monica Studio and released by Sony Computer Entertainment in 2010. Kratos use the Blades of Exile in this game for vengeance. Also there are new magical attacks and power combos for this game. PSM3 Magazine praised the game as one of the best console games ever.
Also there is God of War: Ghost of Sparta for PSP and God of War: Ascension for PS3 in this series.