Diego Maradona or Diego Armando Maradona with his full name is one of the biggest footballers in the history. He's now working as football coach. Many football fans and authorities believe that Maradona is the greatest football player of all time. He was also controversial player with his football style, behavior and character. In a world cup match of Argentina ended 2–1 victory over England, he scored a goal which is known as "Hand of God" because he scored it with via a not penalized handball. How many goals Maradona scored in his career?


According to official records, Maradona scored 258 goals in his club career in Europe and scored 34 goals in Argentina. It makes 349 goals total in his career.
One of the most popular goals he scored was "Hand of God" It was world cup match between Argentina and England. First half score was 0-0 but Argentina was playing attack and they couldn't score in many possible positions. Six minutes after the second half started, Maradona gave a pass to Jorge Valdano but it was some away from him. England's Steve Hodge was there but he dropped ball back to defend. Maradona run to penalty area after ball and jumped with goalkeeper Peter Shilton. Despite being six inches shorter than Shilton, he reached the ball first and scored. Many English players objected to the decision of Referee Ali Bin Nasser but he didn't change the decision. In video footage, it is possible to see Maradona is touching the ball with his hand.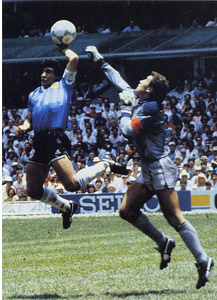 In the same match, Maradona scored also "Goal of the Century" Four minutes after "Hand of God" goal, Maradona took a pass from Héctor Enrique. When he took the pass, he was ten metres inside his own half. He started to run with ball. First player he passed was Peter Beardsley. Then he passed Peter Reid. He passed Terry Butcher in the penalty area but he came back and he passed him again. At last, he passed Terry Fenwick. At last, he was in front of goalkeeper Peter Shilton. He made a dribble around him and scored. He run 60-metre and it was totally 10-second dash.
One other unforgettable goal of Maradona is against Lazio in 1985. This year was unforgettable for football and Maradona. His incredible finishes were firing the football world. In a 4-0 victory over Lazio, he scored one of the unforgettable goals in Italian football history. When defense player left the ball, Maradona took it but he was too far from goalpost, he was on the left and ball was going to throw-in. He made such an unbelievable strike that ball went to goalpost with perfect accuracy. One of the details made the goal an unforgettable one was curve. Goalkeeper was running behind the ball but curve turned the ball from center to right side of goalpost. Many football teachers gave it as example of perfect execution.


One other unforgettable goal of Maradona is against Greece in 1994 World Cup. Maradona was facing many problems and football fans believed that his football life is finished. He denied the rumors by scoring on world cup. Claudio Caniggia and Fernando Redondo made a great play before goal but Maradona's finish was again a lesson for all football players. He used his left foot like a hammer in this goal. Soon after, UEFA noticed that he used banned stimulant ephedrine and sent him away but it was an important example that rather than lifestyle or character, football skills of unforgettable players are totally god given features.