Hyundai Motor Company is one of the biggest car producers in the world. Their origin is South Korean but it's today possible to find factories and facilities of them nearly on all continents from America to Europe. Kia and Hyundai are today combining Hyundai Motor Group. Hyundai sold over 3.5 million cars in 2010 and it was the record for company. Ulsan factory of Hyundai is the biggest car producer facility in the world and they have capacity to produce 1.6 million units in a year. It's today possible to find Hyundai on 193 countries. Hyundai's latest strategy is producing electric cars and they are making new investments for it. How many electric cars of Hyundai are there?


Hyundai today has over 10 models in the electric car market. First model Hyundai created and released was on 2009. Hyundai decided to use a unique system for electric cars called as Hybrid Blue Drive. This system is including lithium polymer batteries as other companies are using lithium-ion batteries. The Avante LPI is the first electric car released by Hyundai. It has a special engine with internal combustion system using LPG as fuel. Also it's using advanced lithium polymer battery.
Other electric car of Hyundai is Hyundai Sante Fe Blue Hybrid. Hyundai Sante Fe Blue Hybrid has a gasoline engine 30 kW electric motor. Its 270 V lithium polymer battery took some good critics from electric car fans and writers.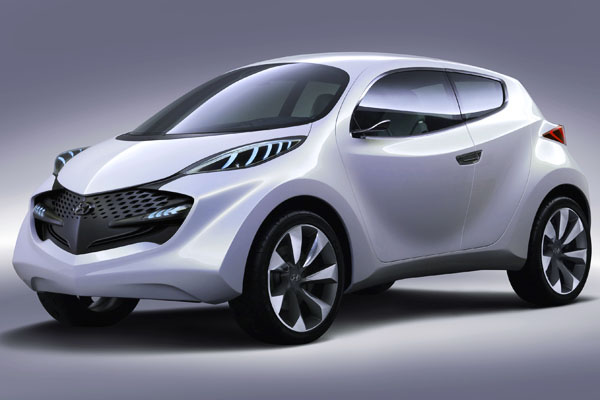 Hyundai Sonata Hybrid is the leading face of Hyundai nowadays in the electric car advertisements. Hyundai firstly revealed it in Los Angeles Auto Show 2008. Blue Drive concept and lithium polymer battery were exciting items of car. Hyundai started to sell Hyundai Sonata Hybrid in 2011. Main features of car are 2.4-liter engine, six-speed automatic transmission, lithium polymer batteries and 30kW electric motor. Full gasoline-electric hybrid is going 37 miles per US gallon. Also 2011 Kia Optima Hybrid will use this engine. In 2011, 7,906 Hyundai Sonata Hybrid is sold in U.S.A. Hyundai make a collaborative advertisement to surpass Honda Insight with Sonata Hybrid and Kia Optima Hybrid.


Hyundai also released a new concept car known as "i-flow". Car is using a developed version of BLUE-WILL hybrid system. "I-flow" is taking power from twin-turbo diesel engine. It's burning 3 liters per 100 kilometers. Also South Korean government helped to test this car in city.
One of the leading electric cars Hyundai produced is "The Hyundai BlueOn". It's a 5-door hatchback electric car in subcompact style. First critics said that it's an electric concept of i10. After Hyundai revealed it in Frankfurt Motor Show 2009, last tests were made in Seoul by South Korean government workers. Hyundai planned to produce 2,500 models by the end of 2012. Car has 16.4 kWh lithium polymer battery.It normally charges in 6 hours but three-phase electric power charge it in 25 minutes. "I-flow"'s top speed is 130 km/h.
Hyundai's powerful entrance to electric car market changed some rules on the trade. Especially lithium polymer battery usage against lithium-ion batteries is very important. Last rumors showed that Hyundai will not want the rental for battery usage.
Biggest rivals of Hyundai electric cars will be Nissan Leaf electric car, The Chevrolet Volt and some others. President Barack Obama made an announcement for $2.4 billion investment to electric cars. But there are some problems which companies will use it. Main problems today Hyundai electric cars living are 0-100 km performance and top speed. Also restricted pollution levels are a problem of Hyundai electric cars. But it's sure that Hyundai will be one of the leading companies in electric and hybrid car market in close future.