Microsoft Surface will be the first tablets releasing by Microsoft. They are officially approved by Microsoft CEO Steve Ballmer. There will be two editions of Microsoft Tablet as "Surface" and "Surface Pro". There are some main differences between two models. Before official announce, lots of photos and information leaked on Surface. Some of them are not realized but most of them became true. Both versions have same and different features. For example processor is different but screen is same as "10.6-inch". How many differences are there between Microsoft Surface and Microsoft Surface Pro?



Main difference between two models is on the processor. Microsoft Surcafe is running on "NVIDIA Tegra-based ARM chip" processor. It's an ARM type processor and if there won't be an ARM version of Windows, it will run Android or similar. Surface Pro has "Intel Core i5" processor. Also there are some rumors that Pro will support both Android and Windows.
Another difference is on the weight. Microsoft Surface is 676 grams only. But Surface Pro is 903 grams. Especially Surface Pro is heavier than today's standard tablets. Ipad 3 is 652 g with its last release.
One of the most wondering features is battery life. It's known that Microsoft is working on battery life for a long period. But classic Windows architecture is very hard to struggle with Ipad or Android. Also Windows runs Flash and it's known as a power hog. Ipad is not running Flash. All writers agree that Surface's battery life will be lower than Ipad. Microsoft's official report is about 7.5 hours for Microsoft Surface in a standard work. Microsoft Surface has 31.5Wh battery and Surface pro has 42Wh battery. Microsoft may get some advantages of Windows operating system on Surface. Features like changing screen resolution may change the lifetime of battery. Users may choose new ultrabooks with over 7.5 hours of battery life if Surface's battery life is under 5 hours.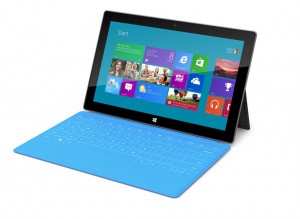 In first leaks, it's believed that two models have same screen features. But in the official report, it's possible to see that Surface Pro has additional Full HD (1080p) touch panel as Microsoft Surface has only Clear Type HD touch panel. Also 10.6 inch is higher than Ipad's 9.7 and it's on the class of new ultrabooks.
Input/ Output features will be the key point on the customer choice. Because while Microsoft Surface has USB 2.0 and microSD support, Surface Pro has USB 3.0 and microSDXC support. Also Pro has Mini Display Port.
At last, Microsoft started to produce devices with at least 32 Gb. Microsoft Surface has 32GB / 64GB editions. Microsoft Surface Pro has 64GB / 128GB editions. 128 GB edition is an important point for Microsoft Surface because Ipad is now on the 64 GB border.
Microsoft reports that Microsoft Surface will be out on 2012 Fall. Surface Pro will be available after three months of this release. It's a dangerous market strategy because high critics on Microsoft Surface may cause Surface Pro to be a dead birth.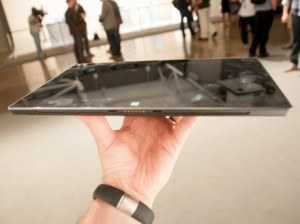 Also price is very important for these tablets. Only announce Microsoft made about pricing is that it will be competitive on arm based tablets and ultrabooks category.
Surface's market strategy is also different than others. Surface will be available only in Microsoft Stores and online. But it's known that Microsoft Stores and online sell strategy is very dangerous as seen on latest trials of company.
Surface's main battle areas with Ipad and Asus will be screen and battery. Especially Microsoft have to get hard to beat Ipad's new retina screen and its 2048×1536 resolution.