Angelina Jolie and Brad Pitt two of the most popular Hollywood stars in the world. They have lots of unforgettable movies. Magazines say that Jolie And Pitt's relationship started on 2005. Brad Pitt was married to Jennifer Aniston when the relationship started. Brad Pitt and Jennifer Aniston divorced after a short period that the new relationship news are spread.  Magazines wrote that Brad Pitt and Angelina Jolie's love started on the set of Mr. & Mrs. Smith movie but she denied it. Their relationship was not on the media since January 2006. In January 2006 Jolie accepted that she's pregnant with Pitt's child. How many children Angelina Jolie and Brad Pitt have?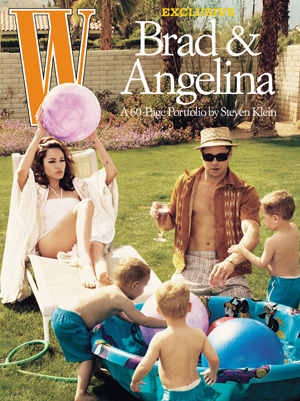 Brad Pitt and Angelina Jolie with their popular name Brangelina have 6 children now. 3 of them are adopted and 3 of them are their own children.
Maddox Chivan is one of the adopted daughter of Brangelina. Angelina Jolie adopted her before Pitt in 2002.  She adopted her from a Cambodia orphanage.
Jolie's second adoption was from Ethiopia in 2005. Girl's name is Zahara Marley. There was news that biological mother of Zahara wanted her back but mother denied this news. These two adaptations are finalized by changing their surname to Jolie-Pitt.
For their first daughter, Couple went to Namibia. Shiloh Nouvel was born in Namibia. They sell the photo rights to magazines and all profit sent to Africa.
In 2007 Jolie and Pitt adopted Pax Thien from Vietnam. In 2008 she gave birth to twins with the names Knox Léon and Vivienne Marcheline.