New Mac Book Air is pronounced in Apple Worldwide Developers Conference. It has lots of new features that are exciting Mac fans. Head of Apple sales said that "It's the most beautiful Mac Book in our history". Mac Book Air has the prize of being the thinnest pc in the world and new Mac Book Air is thinner than ever. Also its processor and graphics chipset is powerful than ever. Apple is known with its conservative style in new technologies but it's possible to say something is changed after Steve jobs died. How many changes are there in new Mac Book Air?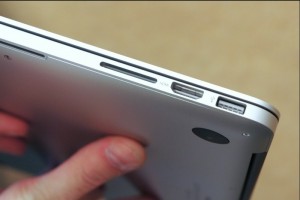 First of all it's possible to say graphic processor has a development but it's not a big one. Latest Mac Book Air has HD Graphics 3000 256 Mb. This new one has HD Graphics 4000 with Ddr3 Sdram. But it's still hard to say Mac Book Air is a gaming pc.
Processor of Air is changed too much since first release. But it's not possible to say it's changed since last release in 2011. I5 processors are still in Air.
Ram size is 4 GB but it was still optional in older Mac Book Airs. Change in new Mac Book Air is giving a change to up it 8 GB.
SSD usage is a great development in HDD and it will open the way to other PC. It's possible to see various SSD's from 64 GB to 256 GB. New Mac Book Air has USB 3 ports and Thunderbolt port. Also there are HDMI and SD card slots in Air.