Real Madrid is one of the most popular football clubs worldwide. They are also the richest club with €513million by annual revenue and second most valuable with €1.8billion. They have 32 La Liga titles, 9 Supercopas de España, 1 Copa de la Liga and 18 Copas del Rey now. Also they made the biggest transfers of the football history with Cristiano Ronaldo and Kaka. They are also one of the most successful teams in European Cups. Especially they are very successful in Champions League. How many Champions League cup Real Madrid won?


They won the Champions League cup for three times. First championship was in 1997–98 UEFA Champions League. It was 32 years till Real Madrid won the cup in its older format but they had never won the Champions League cup. Real Madrid passed the group stage with 13 points and 4 win. Then they passed Bayer Leverkusen and Borussia Dortmund to the final. Final was against Juventus. Beside starts of Real Madrid like Raúl, Predrag Mijatović and Clarence Seedorf, Juventus was strong with Zinedine Zidane, Alessandro Del Piero and Didier Deschamps. Juventus dominated the first half but then Mijatović scored in 67'. Juventus couldn't answer and it was the first Champions League Cup of Real Madrid.

1999–2000 was the year of Real Madrid and they won the second Champions League cup in this season. Real Madrid passed the group stage with 13 points in 4 win. Then they passed the second group stage behind Bayern Munich with 10 points. In quarter finals, they passed Manchester United in an unforgettable round and then passed Bayern Munich to the final. Opponent in final was Valencia. It was a surprise than Valencia came to final by passing Lazio and Barcelona. But they had a strong squad with stars like Santiago Cañizares, Gaizka Mendieta and Claudio López. Real Madrid played a dominant game in final and scored first in 39' by Morientes. Also McManaman and Raul scored in second half. It was the second Champions League Cup of Real Madrid.
Latest Champions cup of Real Madrid was in 2001–02 season. Real Madrid finished the first group stage with 4 win and 13 points. Then passed second group stage with 16 points and no lose. Then they passed Bayern Munich in quarter finals and Barcelona in semi-finals. Opponent in final was Bayer Leverkusen and it was again a surprise after Valencia. But Bayer Leverkusen was stronger than Valencia with stars like Lúcio, Michael Ballack, Bernd Schneider and Oliver Neuville. Match started fast and Raúl scored in 8'. Then Lúcio scored in 13' for Leverkusen. While match was going in balance, Zidane scored with his unforgettable volley. It's still one of the symbols of Champions League.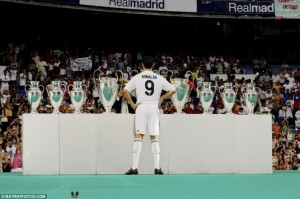 It's true that Real Madrid never lost on Champions League in their history. Till 2002, Real Madrid fans are waiting for a new final and cup. In this period, Madrid transferred many big stars like Figo, Zidane, Ronaldo and Kaka but they couldn't manage to pass quarter or semi-finals.
Team also have three UEFA Cup, , 1 UEFA Super Cup and 3 Intercontinental Cup in their museum. They lost European Cup three times in final, UEFA Cup Winners' Cup two times in final and UEFA Super Cup 2 times at final. They have stars now like Kaka, Cristiano Ronaldo, Sergio Ramos and Mesut Ozil. They never eliminated in group stages in Champions League till now. Also they have a multiple–winner badge on their shirt given by UEFA. It's giving by UEFA clubs winning five overall championships in tournaments.