Everybody loves eggs and there are a lot of benefits of egg. There are approximately 57 calories in a 37 g small egg. Egg calories depends its size and cooked or not.

Egg Calories
A whole, fresh and raw egg
Size – Small 37g – Calories in egg – 54 calories
Size – Extra large 58g – Calories in egg – 85 calories
A whole, cooked and scrambled egg
Size – Small serving of 1 tbsp 13.7g – Calories in egg – 23 calories
Size – Large serving of 61g – Calories in egg – 101 calories
A whole, cooked, hard-boiled egg
Size – Small serving of 1 tbsp 8.5g – Calories in egg – 13 calories
Size – Large serving of 50g – Calories in egg – 78 calories
A whole, cooked and fried egg
Size – Large serving of 46g – Calories in egg – 92 calories
A whole, cooked, poached egg
Size – Large serving of 50g – Calories in egg – 74 calories
A whole, cooked omelet

Size – Small serving of 1 tbsp 15g – Calories in egg – 23 calories
Size – Large serving 61g – Calories in egg – 93 calories
A whole, dried egg
Size – 1 tbsp 5g – Calories in egg – 30 calories
A whole, dried, stabilized and glucose reduced egg
Size – 1 tbsp 5g – Calories in egg – 31 calories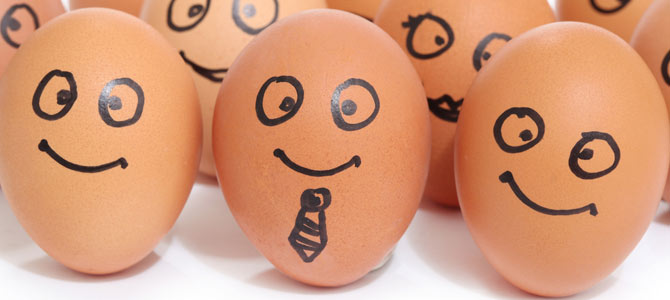 Benefits of Egg
They are also one of the least expensive single-food sources of complete protein. One large chicken egg contains approximately 7 grams of protein. And there are more benefits:
Improves Concentration: Good nutrition affects a child's ability to learn. Research has shown that eating a well-balanced breakfast can improve a child's:

Concentration level and attention span

Math and reading skills
Behavior
Attendance
Test scores

Starting the day with a healthy breakfast that includes eggs gives you and your family a nutritious start to the day. This is because nearly all the essential nutrients your body needs can be found in an egg.

Weight Management: The protein in eggs can help you lose weight by controlling the rate at which your body absorbs calories. When managing your weight, choose foods that provide the maximum amount of nutrition for the least amount of calories. Eggs are great nutritional value for those trying to lose or maintain weight.
Brain Development: Eggs give us brainpower. Choline, a substance found in egg yolks, stimulates brain development and function. Since it is necessary for good health, but is not produced by our body in adequate amounts, a continuous new supply must be provided by our diet. Two large eggs provide an adult with the recommended daily intake of choline.
Eyesight Protection: Eggs help to keep your eyes healthy. Lutein and zeaxanthin are antioxidants found in egg yolks and are believed to help protect eyes against damage due to ultraviolet radiation from the sun. Research has shown that these antioxidants may be very important in reducing the risk of age-related macular degeneration (the leading cause of blindness in people over age 65) as well as the risk of cataracts.
Lasting Energy: Including protein-rich eggs in your meals and snacks helps sustain your energy level and curb hunger, cravings and unhealthy snacking. Protein is the most filling nutrient. It helps control the rate at which food energy (calories) is absorbed by your body. Eggs are one of the few foods considered to be a complete protein. A complete protein contains the nine essential amino acids your body cannot produce naturally.
Improve Your Cholesterol Profile: Not only have studies shown that eggs do not significantly affect cholesterol levels in most individuals, but the latest research suggests that eating whole eggs may actually result in significant improvement in one's blood lipids (cholesterol) profile – even in persons whose cholesterol levels rise when eating cholesterol-rich foods.
Helping to Prevent Blood Clots: Eating eggs may help lower risk of a heart attack or stroke by helping to prevent blood clots. The anti-clotting egg yolk proteins inhibit clot formation in a dose-dependent manner – the more egg yolks eaten, the more clot preventing action.
Healthy pregnancy: Choline is an essential nutrient that contributes to fetal brain development and helps prevent birth defects. Two eggs provide about 250 milligrams of choline, or roughly half of the recommended daily intake for pregnant and breastfeeding women.
Apart from health benefits there are even some more benefits of eggs:
Affordable: Considering how nutritious, delicious, convenient, versatile and quick to cook eggs are, you might expect to pay more for them. The price of eggs makes them very affordable.
Versatile: Eggs can be eaten as a snack or for any part of a meal. They can be eaten on the go or as part of a gourmet dinner. Whether cooked quickly or part of a more elaborate recipe, eggs add flavor and variety to many different dishes. There is an egg recipe to suit everyone's cooking preference or ability.
Quick to Cook: It takes just minutes to fry, scramble or microwave an egg. Cooking an egg quickly doesn't mean sacrificing flavor either. You can create delicious, nutritious, meals in just minutes, leaving you more time to do whatever matters.