Robyn Rihanna Fenty or Rihanna with her popular name is Barbadian singer and actress. Her first album " Music of the Sun" released on 2005 and song "Pon de Replay" went into Billboard Hot 100 . Then Rihanna released "A Girl Like Me" in 2006 but the album made her worldwide famous was "Good Girl Gone Bad". Album spawned top hits like "Umbrella", "Take a Bow" and "Don't Stop the Music". Her 2009 album "Rated R" released three singles but most famous one is definitely "Rude Boy". Also she has albums "Loud" released in 2010 and "Talk That Talk" in 2011. Rihanna always became a hotspot with her lifestyle and love life. How many boyfriends of Rihanna are there?




After became famous, rumors about Rihanna's dates and boyfriends started normally. First rumor was about Rihanna and Josh Henderson. The handsome of "Dallas 2012" was on the first years of his career like Rihanna but they have never been photographed. Friends of Rihanna accepted that they dated for one month.
After Henderson, Rihanna again found a new star. Shia LaBeouf and Rihanna tried to hide their relationship but Rihanna's friends photographed them in a night club secretly. After years Shia LaBeouf told the Playboy Magazine that after some messaging, they decided to meet but nothing more than a dinner happened. LaBeouf confessed than Rihanna was not the woman his mother is looking.
After one night LaBeouf adventure, Rihanna was flying high in musical career but low in love life. She started to date a new R&B star Omarion. It was the time Omarion released his second and hit album "Face Off" and some fans believe that it was a date for advertisement. They took so many photos from date that some fans of Rihanna got angry.


2007 was a full year for Rihanna's love life and she finished year with Josh Hartnett. Rihanna behave like a schoolgirl when she was in relationship with Hartnett. She called Hartnett as "hot". Also she made lots of confessions about their lovelife for user blogs. While some people start to think they will marry, they broke up but never answered questions about it.
After lots of actors and singers, Rihanna fall in love Chris Brown. In first months their relationship was going very good. But then especially Rihanna's friends started to say that couple is making arguments every day. Everyone waited their break-up but Rihanna send lots of tweets that she loves Chris Brown. After some events, Rihanna and Chris Brown made a big fight and Chris Brown hit Rihanna. Then Rihanna went to police. Scandal started there because beaten face photo of Rihanna leaked to internet. Police reported event as domestic violence and gave the date of scandal as February 8, 2009.
After they broke up, Rihanna send romantic tweets that she will never love anyone again. But after a short period, she fall in love with Rapper Drake. Also this relationship finished with a scandal that Drake and Chris Brown made a big fight for Rihanna and cameras caught them.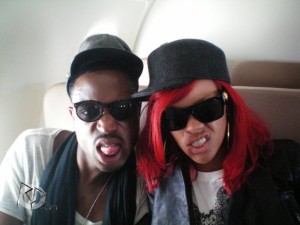 After Drake, Rihanna dated Los Angeles Dodgers center fielder Matt Kemp. But in Vogue's April release, she said that they broke up. Some rumors said that Rihanna's father doesn't like Matt Kemp. Rihanna made some supportive but not clear explanations about Matt Kemp and her father.
After Kemp, Rihanna never caught with anybody. Only rumors like Ryan Phillippe, Rashard Lewis, Dudley O' Shaughnessy and Ashton Kutcher was possible to see. Only rock drummer Travis Barker and Rihanna taught as dating but they never accepted it and said that they are only friends.


Also she dated with Melissa Forde and made lots of lesbian like tweets about her in night.