Apple Store or The Apple Retail Store with its official name is Apple Inc.'s electronic and computer shop concept. Macintosh, software, Ipad, Iphone, Ipod and other personal computers are the main products selling in shops. There are lots of different stages on Apple Stores. Some of them are Theatre for presentations, Genius Bar for support, free workshops. Main director of Apple Stores in Apple Inc is Ron Johnson. When Apple Store strategy is firstly set, it's taught that all Apple Stores will be outside the malls and their name will be "Flagship". But then Ron Johnson changed to strategy and today most of the Apple Stores are located inside the big malls. How many Apple Stores are there?


Today there are 364 Apple stores in 13 countries. All Apple Stores have special architecture with some traditional additions. Especially glass cube Apple Store on midtown Manhattan is one of the most famous Apple Stores ever.
Today Apple Stores have over 30,000 workers in United States. Apple Store workers take modest payment but they take lots of benefits like gym memberships, product discounts and 401k plans.
Apple store concept has various important parts. One of them is Genius Bar. Genius Bar's difference from other computer seller's technical departure is that Genius Bar workers offer deep technical advice with professional knowledge but other computer sellers' have always some problems about technical advice level and technical men knowledge level. Some Genius Bars like Tokyo Ginza store and New York City Bars have also a special department known as Ipod bar and they work only for it.
Also newest Apple Stores have a special department known as "The Studio". The Studio is a developed kind of Genius Bar. In "The Studio" department, customers may take help for organizing a photo album and listing their popular songs. Also some newest ones have technical equipment for film editing.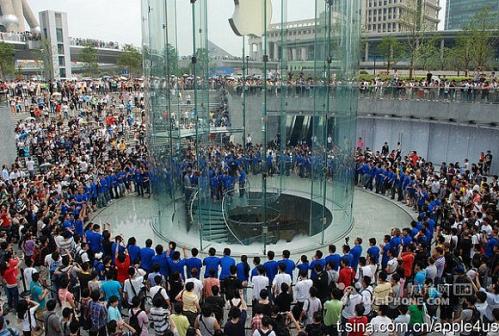 United States is leading on Apple Store number with 250. Apple is planning to open 3 stores more in 2013. United Kingdom has 33, Canada has 23 stores. China has 5 stores but Apple is planning to open 25 stores more to country. Main reason Apple is planning so high store numbers is the imitation Apple Stores in country.
Imitation Apple Stores were firstly a rumor but then a famous American technology blogger wrote "the best ripoff store we had ever seen" in Twitter then Apple discovered 22 imitation stores in Kunming province. A news an NBC showed that all workers have fake Apple worker ID's and engineering is a perfect imitation of real ones. Reuters reported that some workers in imitation Apple Stores really believe that they are working for Apple.


Apple Store openings are also very important for areas, Apple fans and countries. When an Apple Store is opening, it means Apple will sell lots of discounted products with prices never possible to find. Some research showed that when new Apple Store opened, it needs 3 months to fix the loss.
Apple's Apple Stores plans are what company is most successful to hide. It's possible to see leaks from ios versions to new products from Apple Inc but there's only a little leakage sometimes but they are mostly fake. Today, there's no Apple Store is Russia and all Africa continent. It was a deep rumor that Apple Store will be available in Russia but there's no sign still. Also South Africa but it's also not still possible.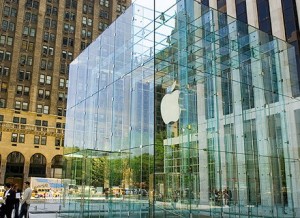 Also there's an Apple Company Store in Apple Campus. It's a open to the public store now. But it's selling only t-shirts and other merchandising of Apple and not selling Apple MacBooks or electronic product of company.