Today cameras are everywhere. Also nearly all mobile phones have cameras inside. But before 80s, it was very hard to find a recording device; they were very limited and expensive. But journalism was more important than today and journalists were working to catch important moments. Also it was very rare to see unusual events and people tried to make them recorded. Also there were less historical events, races and more in the history and journalists were there. How many big tragedies are there caught on tape?


One of the biggest tragedies caught on tape was Le Mans Disaster in 1955. It's true that Le Mans Disaster is one of the most catastrophic accidents of the motor racing history. When Pierre Levegh's Mercedes crashed, it was on 125mph. Crash killed Levegh but real disaster came when Levegh's Mercedes debris went into crowd. According to official reports, debris killed 83 people and injured 120 people. It forced Motorsports organization to take serious measurements especially on spectator areas.

Another big disaster caught on cam was The Hindenburg Disaster in 1937. It was time that a new war is on the door and nations were preparing for it. German passenger airship Hindenburg was very important for Germany. German government announced that they are opening a new era with Hindenburg. While it was landing on Lakehurst, New Jersey, Hindenburg blasted with a huge explosion. Pathé cameraman William Deeke was recording the Hindenburh and he caught the event. Because of explosion's power, camera went out of record after a few seconds but it was possible to see the first explosion moment. There were 97 people on board and 37 of them died. According to official reports, most of them were important personalities of Germany.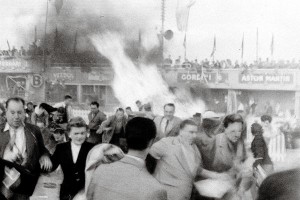 Another big disaster caught on tape is known as "Death Jump" It was 1912 and people were searching the new ways of flying. the inventor Franz Reichelt invented a new type a parachute and decided to try it. He insisted on taking permission to jump from Eiffel Tower with parachute and lastly they gave it. All people and many cameras are invited for this important moment. It's possible to see on video that Reichelt scared from height and turned back. But his manager persuaded him and he went back. He jumped from tower with parachute but parachute was not working correctly. He died and this event affected works on parachute inventions.
HMS Barham's explosion changed the way of war in 1941. It was an important British battleship of Royal Navy. Also it has a strategic point in Second World War and it was in Mediterranean on November 25, 1941. German submarines send torpedoes to it from close range. It was big chaos how a German submarine was so close to such a big battleship. Battleship exploded and sank. 863 soldiers died in the battleship and cameraman John Turner recorded it. Germans used the as a propaganda object.
Another important disaster caught on tape is known as "The 1913 Derby disaster" It was World War 1 but in Britain and USA, women were also fighting for their rights. Emily Wilding Davison was a militant activist and she was fighting for women's suffrage in Britain. In an important horse race, she stepped in front of King George V's horse. It's unclear but many people believe that she tried to replace a flag of WSPU so when King finished the race, WSPU flag will be seen on it. Also some people reported that she tried to pull down the horse. Horse hit Emily Davison and killed her.