The Doors is one of the most popular bands in music history. They are formed in 1965. Main staff is Jim Morrison, Ray Manzarek, John Densmore and Robby Krieger. Group members decided to give "The Doors" name to group from "The Doors of Perception" book of Aldous Huxley. Group stormed at 60s with Morrison's charismatic personality, stage performance and wild lyrics. After Morrison's death in 1971, group worked since 1973 and disbanded. Worldwide sell of band's albums are totally 100 million. They are a member of "Rock and Roll Hall of Fame". How many albums of The Doors are there?


Group released nine studio albums. Also they have released twenty-one singles. Group's voyage started with "The Doors" album in 1967. Album left three worldwide popular hits as "Break on Through", "The Crystal Ship" and "Light My Fire". Album entered "Rolling Stone's 500 Greatest Albums of All Time" from #42. Also there are three new tracks in 40th anniversary edition bonus album.
After "The Doors" album's incredible success, group started to play on important clubs and gave concerts. Some magazines claimed that they are not willing to release a new album but new album "Strange Days" came in same year. Album included some all-time hits like "Strange Days" , "When the Music's Over", "Love Me Two Times" and "People Are Strange" . Album entered to "The 500 Greatest Albums of All Time" of Rolling Stones Magazine. Album made a great commercial success.
"Waiting for the Sun" album of The Doors is released on 1968. Group had become worldwide popular and millions of group fans were waiting new hits. Album left an all-time hit song "Spanish Caravan". Also other songs like "The Unknown Soldier" were including antiwar and very deep politic lyrics.


After "Waiting for the Sun" album's critical and commercial success, group released a surprise album "The Soft Parade". String instrument and brass usage on album created controversial topics between group fans. Mainly fans didn't find the album a masterpiece and innovative one. Main reason on album's soft sound was Jim Morrison's alcoholism problem and guitarist Robby Krieger's dominant effect while Morrison is not on the studio. "Touch Me" became a worldwide popular song on this album. Album couldn't chart on UK and it was the first time for The Doors. Some authorities criticized the album as "return of the 30s sound with some music tricks".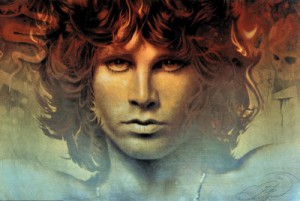 "Morrison Hotel" is the 1970 album of group. After commercial and critical fail of last album, group returned to its old style. Album's main sound was rock but some blues winds were easy to feel. Main strategy on album was releasing a total sound album and it became very successful. Morrison was getting more and more problematic every day while album was recording. Also some problems in group were possible. But group created a great album in this bad situation.
"L.A. Woman" became the last album of The Doors that recorded with Jim Morrison. It was possible to feel the wind of blues on "Morrison Hotel" album but it was only a taste on rock. "L.A. Woman" album is categorized as blues rock and fans don't like this sound. Group's problems were on top while recording album. Group decided to start a tour for album. After first concert went well, Morrison lived breakdown on stage. Group ended concert tour and Morrison died three months after. Album left an all-time hit "Riders on the Storm" to the lists.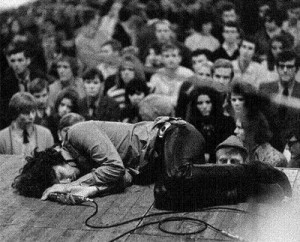 After Morrison's death, group released three albums as Other Voices, Full Circle and An American Prayer. Some songs of Other Voices album were written while Morrison was living but he didn't want to join these songs' recording.