First airplane crash in the history was in 17 September 1908 and first man died in an airplane crash was Signal Corps Lieutenant Thomas Selfridge. Till the first aircrash, many crash happened and many people died but airway is still the most secure way to travel. There are many different reasons of airplane crashes like captain fault, bombing or several. There are also many works to make airways more secure than ever and planes the securest way for travelling. How many airplane crashes killed over 200 people in the history?


It's true that Tenerife aircrash or Tenerife Disaster with its well known name is one of the biggest and deadliest aircrash ever with 583 fatalities. Everything started with a terrorist bombing at Gran Canaria International Airport and passengers are directed to Las Palmas International Airport but it was a small airport with now thousands of passengers using this airport. It was March 27, 1977 and it was a foggy way. Because of fog, controller was only possible to identify planes with their voice records. KLM flight attempted to take off but Pan Am flight was waiting on the runway. After a big crash, planes started to leak fuel and cabin started to fire. Many passenger died in this big fire. After investigation, KLM admitted their crew made the mistake and responsible for crash.

Japan Airlines Flight 123 is the second biggest aircrash ever. It was a domestic flight only but because of very busy time of year, it was full. After 12 minutes of flight without problem, the rear bulkhead of plane failed and teared whole plain. Crew tried to return Tokyo but then decided to land American military base. After working hard to land, crew couldn't manage it and plane crashed into mountains. According to claims, American rescue team went to area 20 minutes after crash but Japan authorities didn't allow them. It was night and Japanese rescue team decided to wait till daylight. Only 4 survivors were found in the first hours of daytime. 520 people are killed in this accident.
Charkhi Dadri collision is the biggest aircrash in the Indian history and one of the biggest aircrashes in the history also. A Kazakhstan Airlines military plane was carrying 27 passengers and 10 crew and crew decided to land Delhi airport altough they have limited English. Because of complete communication problems, they hit to a Saudi Arabian Airlines Boeing 747 with 312 people in it. None of passenger could be rescued in Boeing 747 and only four were rescued in Kazakhstan Airlines military plane but they died soon. Total number is reported as 349.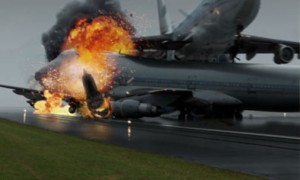 Turkish Airlines Flight 981 is one of the deadliest crashes for DC-10 type planes. Plane was flying from Paris to London. It was rarely full in this route but because of British strike in same days, all people choice Turkish Airlines Flight 981. While plane was over Meaux, France, passengers heard an explosion and cargo hatch blew off. Because of collapsed cabin floor above the cargo, all cables connected captain to plane controls are destroyed. 346 people are killed in this accident. It was a known problem that DC-10's cargo door is totally faulty but there was no attempt to fix it till this crash. After crash, all 747 cargo doors are fixed by company.
It was Saudia Flight 163 that killed 301 people in the 1980. Six minutes after take off, passengers claimed that there's a smoke coming from cargo. Plane landed to airport back but Saudian authorities didn't open the doors. Most people died in plane because of smoke inhalation.