Enterprise Holdings is one of the biggest companies in USA in the rent a car industry. It has lots of rent a car companies like Enterprise Rent-A-Car, WeCar, PhillyCarShare and Alamo Rent A Car in USA. Today there are 5,400 local stations and 419 airport stations of company in USA. Enterprise Rent-A-Car has also a popular customer service that took lots of awards in 2000s. Company is renting car in various categories today like Economy, Standard Special, Premium Special and Specialty SUV. How many advantages of rent a car from Enterprise Rent-A-Car?


First of all, Enterprise Rent-A-Car has a simple and easiest to use rent a car site ever. It's not possible to see any flash ads or other not directly concerning customer details in web site. It's also very easy to change the language in website. There are various language options like French in German.
Enterprise Rent-A-Car is offering a wide database with hundreds of different cars. They are also categorized well so you don't have to search hours for a car. Also it's possible to rent a small car or pick-up. Especially pick-up category is very satisfying because Americans like to use them for long travels. It's possible to take car in a different station and leave them to a different station. It's an important feature of company.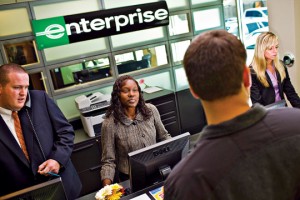 Service quality of Enterprise Rent a car is higher than rivals. They are offering 24 hour roadside assistance, a big call center with no charge and other equipment with little charge. Other big companies are offering same services but call service is mostly redirecting to nearest rent a car station or 24 hour roadside assistance is directing to a service company. There are different rent plans of Enterprise Rent a car like monthly and more so it's possible to save money with them.
Company offers various features especially on their service location but only a few of them are satisfying for people who will rent the cheapest car. For example it's possible to buy various environmental features for rented car. Especially in hybrid cars, it's possible to pay a Greenhouse Gas Emissions Offset Charge which funds TerraPass that is working to decrease carbon level in atmosphere. Fee is $1.25.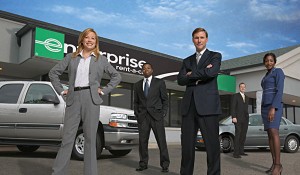 There's also a Rideshare feature that you can find sharers to your rented car so they will use less gas to their car. But beside these features, there's no discount gas, insurance packages, roadside assistance info or toll passes on company's website. You have to consult all of them to your rent a car station officer. Forms are very long in reservation page and no online check-in option is available. Renting a child seat for car is available on site but there's no detail about size of it.
Economy class cars of company are not enough. Standard cars in this category are Kia Rio, Toyota Yaris and Chevrolet Aveo. Sometimes new cars are coming to this category seasonally. But SUV category of company is really great. There are various subcategories like Intermediate SUV, Premium SUV, Luxury SUV and Specialty SUV. Enterprise Rent a car is offering Porsche Cayenne in Specialty SUV category. Luxury category's standard cars are Cadillac DTS and Lincoln Town Car.
Enterprise Rent-A-Car is a preferable service because it's possible to feel that they are professional on their job and they are offering a good service till the last moment. With their new strategy on focusing local markets, it will be possible to find Enterprise Rent-A-Car points in more local areas and airports in a few years with good prices.