Coupons are very popular nowadays in USA. Companies use them as a way of advertising. It's a developed way of advertising because customers have to come to market to take discount. In the classic advertisement, they only see ads and it's a chance whether they will come to store or not. Manufacturers mostly publish coupons and send them to retail stores. Another important feature of coupons are that store may send them to only specific customers so it doesn't have to pay for ads out of its customer category. How many ways are there to find coupons?


First coupon promotion is started by Coca-Cola Company in USA in 1887. Asa Candler started to mail coupons to big companies' employees and sales representatives. They also placed in some magazines. According to Coca Cola archives, between 1894 and 1913 nearly 8.5 million Americans drink free cola. In 1990, coupon world opened a new window with internet. Some companies published some printable and online coupons in their web sites. In 2002, coupon market was US$3.8 billion for USA. In 2009, The U.S. government also started to use coupons.



Today easiest way to find coupons is web sites. They are some popular sites like coupons.com and couponnetwork.com. But customers must be very careful while choosing a site giving free coupons because it's very common to see that expiry date of coupons is over. Printing coupons directly from web page is not possible. Customers have to install a plug in to download and print it. These plug ins mostly includes ads, browser addons and more. It's also important that all coupons have a print limit. If you postpone to print a good coupon, it will be very hard to find it again.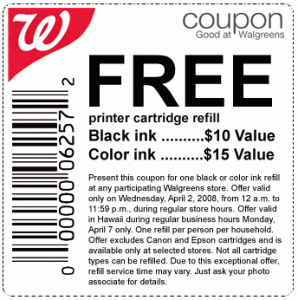 You can also find coupons in the manufacturers' websites. It's still a developing area and hard to find coupons in local companies but country based countries mostly make it. There are some software that traces the websites you added to database and inform you when there are new coupons.
Taking coupons with e-mail is a good but old way. There are also lots of spams and scams on mail couponing. But if you are using a private and not spammed mail address, you can give them to big companies or enter them to their mail lists. Mail couponing is one of the most preferred ways of companies for sending coupons because they can send them to specific customers.
It's also possible to find coupons in drug stores and local groceries. Impulse buying is vital for companies and coupons in these places are encouraging customers for it. When a customer bought a product that is not on her list means she won't go to another drug store or grocery to buy it.
There are different coupons types in markets. They are blinkies, hangtags, brochures, tearpads and peelies. Drugstores like Walgreens like to publish coupons. Also tearpads are very popular in groceries.
Magazines are a good way of couponing but today they are full of coupons with some little articles and news. Most profitable way of magazine couponing is subscribing them in sites like Amazon. Customer can subscribe to magazine from $5 and can save $100 from coupons inside it.
Big markets like Walmart offer its own magazine "All You" in its stores. This magazine includes weekly or monthly available good coupons for Walmart stores. Coupons are mostly limited to store you found the magazine.
Today it's possible to find coupons in every place you go. You can find free toothbrush coupons in a dentist or free beer coupons in the local events. They have always more value than newspaper coupons.