Swarovski is a luxury brand from Austria. Daniel Swarovski is the founder of company and he's also the founder of crystal glass because he found the cutting system which is the main way for production of crystal glass. Today Swarovski spread its name with luxury jewelry products but company has products on various categories. Especially a special coating system Swarovski is using in its jewelry which is creating a rainbow effect in crystal glass made them worldwide popular. Today company has various subcompanies. How many varieties of Swarovski are there?


One of the most popular Swarovski product is figurines. First figurine produced by Swarovski company was a little mouse and company is still using this mouse as the symbol of its figurine category products. In 2000s, company also started to use Hello Kitty products and produced figurines on it. Chinese Zodiac series of figurines are also very popular in China.
Swarovski lightning series is using in home and office decoration. Swarovski detailed its work on three categories as Honeycomb, Crystal Panels and Unveil. Today most of the decorators are using the Swarovski lightning series to shine the light in houses. Also products made from full of Swarovski products are possible for home decoration.

Gems are a leading product class for Swarovski. It's also most copied product class of Swarovski. Company created three brands to proof its original products as "Made With Swarovski MARCASITE", "Made With Swarovski GEMSTONES" and "Made With Swarovski ZIRCONIA." Swarovski Gems are still symbol of wealth and luxury but fake gemstones hit the market and company forced to reduce the prices on them. Also today it's possible to find Swarovski Gemstones in more market than ten years ago. There are many ways to understand real Swarovski gems but most popular way is noticing the cuts. Swarovski Company is using most expensive machines and blades to cut the GEMS so it's possible to notice the difference between fake and real Swarovski in first look. Also cutting elements like Zirconia is only possible with machines of big companies like Swarovski.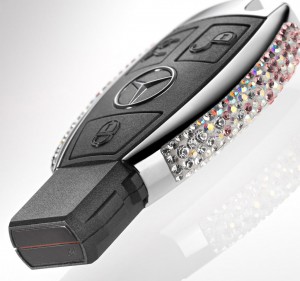 Swarovski Company is creating monuments, areas and shop decorations with Swarovski Gems. Swarovski Innsbruck Shop is one of the most popular luxury shops in the world. Also it's very popular with decoration in Swarovski gems. Shop is in the old city center of Innsbruck and this area is known as "Goldenes Dachl." It's also one of the largest Swarovksi boutiques in the world. Swarovski Wien is also a popular shop of company. Swarovski Company is selling its most expensive products in this place and also exhibiting new production first. Shop became top news with its transparent spaces created by special Swarovski gems.
Swarovski Company made some steps on beauty world also in 2000s. "Aura by Swarovski" series is today offering various products from Fragrances to Make Up Jewels and more. Also limited edition products of "Aura by Swarovski" series is a popular product series on Hollywood Stars and it's also a popular magazine topic.
Swarovski Company introduced its watch category firstly in "Baselworld" jewelry and watch exhibition in 2009. The D Light watch became the leading product of series with 171 crystals. Product awarded with "Best Product of 2010" in exhibition also.
Swarovski rarely becomes sponsor of movies. It mostly develops short films about its products and also supports some film makers. In 2004, it became the sponsor of "The Phantom of the Opera" movie. It was possible to see a Swarovski shop window in some scenes. But movie also created some discussions because of Swan logo usage instead of edelweiss flower.