The Detroit Pistons is one of the most popular NBA teams all over the world. Especially their "The Bad Boys era" 1979 to 1994 became a symbol of NBA all over the world. They are based on Auburn Hills, Michigan of Metro Detroit. They are playing their games in The Palace of Auburn Hills. First name of the team was "Fort Wayne." First owners of team were Fred Zollner and his sister Janet Zollner. They were manufacturing pistons for cars. A few years later they joined league, they got to finals but lost to Syracuse Nationals. How many times Detroit Pistons became NBA Champions?


Till 80s, Detroit struggled with low budget and strong rivalries. Teams like Minnesota, Lakers and Boston were playing with teams dominating the league. After they broke record with losing streak of 21 games, everything started to change when they drafted point guard Isiah Thomas from Indiana University. One year later, they acquired Bill Laimbeer and Vinnie Johnson. That tree man became the core of Detroit Pistons for 10 years. New team showed its power firstly in 1985 playoffs. They lost to Boston Celtics in the conference semifinals but everyone was surprised and amazed from their performance. Another part of team Joe Dumars came in 1985 NBA Draft which was 18th overall. They lost to Atlanta Hawks in 1986 playoffs. After series, Coach Chuck Daly and Isiah Thomas thought that a more aggressive can only dominate the division.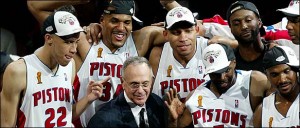 In 1987, They drafted John Salley, Adrian Dantley and Dennis Rodman at last. After these players, team started to play a more defensive, strong and aggressive play that was unusual in NBA history. Team's aggressive strategy is named them as "Bad Boys."
Their second NBA finals and first NBA championship came after The 1989 NBA Finals. Final was against Lakers and Magic Johnson was playing high but also it was the retirement season of Kareem Abdul-Jabbar. Lakers came to final with sweep of first rounds. Lakers came to finals with winning 1987 and 1988 NBA championships but both Byron Scott and Magic Johnson were injured. Also Distons came to finals dominating the league with 63 wins. In first game of Finals, there were many problems on Los Angeles Lakers. Magic Johnson was very slow to defend Vinnie Johnson, Isiah Thomas and Joe Dumars. Score of first game was Los Angeles Lakers 97, Detroit Pistons 109. Magic Johnson pulled his hamstring in second game and it means opening the doors for Detroit. Score was Los Angeles Lakers 105, Detroit Pistons 108. Detroit finished Lakers's job in L.A easier than they waited. They became the first NBA champion swept their opponent in NBA finals.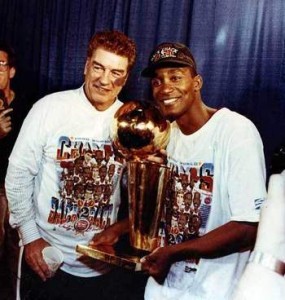 The 1990 NBA Finals was between Detroit Pistons and Portland Trail Blazers. It was the first final since 1979 without Celtics or Lakers. Blazers came to finals year by year achievement in drafts with players like Clyde Drexler, Jerome Kersey and Terry Porter. But Rick Adelman's took over the team was the real change. Also legendary Dražen Petrović was playing for Blazers. It was the year of Dennis Rodman and Detroit dominated the league again. After Pistons won the first game, everyone thought that they will again sweep the final but in an unforgettable match, Blazers beat Pistons in overtime. Pistons managed to win other three matches even close to lost if Vinnie Johnson's unforgettable shoot was not scored.
In 2004 NBA Finals, Lakers was the heavy favorite but Pistons dominated all games even lost one. Series entered the league history as "five-game sweep." Point guard Chauncey Billups became the MVP of finals.