Steve Nash is one of the living legends still playing in NBA. After an exciting college career, he entered 1996 NBA Draft. Phoenix Suns selected him as 15th pick. Being an NBA star was the dream of Steve Nash and he was talking to everyone about it in his young years. It was a chance that Nash changed his school and in his new school St. Michaels University School he started to play basketball, rugby and soccer. In his senior year, his statistics were 21.3 points, 9.1 rebounds and 11.2 assists. Also he has chosen as Player of the Year in his province. How many teams are there Steve Nash played for?


In his NBA career, Steve Nash only played for 3 teams. They are Phoenix Suns, Dallas Mavericks and Los Angeles Lakers. In his first NBA year, he faced the Phoenix Suns fans rejection. Suns were in a problematic period and fans didn't like an unknown player. Main claim why fans don't want was that Steve Nash didn't play in any major college conferences. There were also star point guards on the team when Steve Nash attended. Names like Kevin Johnson, Sam Cassell and Jason Kidd caused him to wait on bench. Nash only played 10.5 minutes in his first season. But on his second season of Phoenix Suns, he grabs the chance and became 13th on the three-point percentage of league. But he believed that he has no chance in Suns and traded to Dallas Mavericks for Martin Müürsepp, Bubba Wells.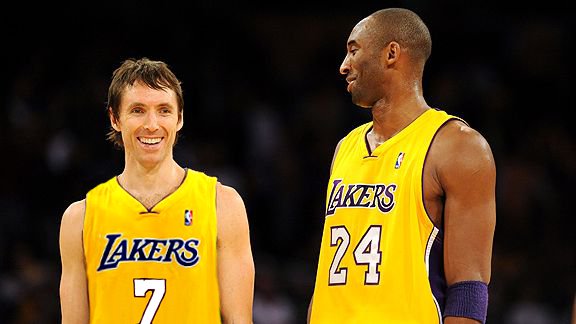 He faced again problems not occurring from himself in his first season 1998–99 season. There was a lockout and only 40 games were played. He made statistics as 7.9 points and 5.5 assists but writers didn't notice him as a future's big player. In 1999-2000 season, when he started to top his performance, he missed 25 matches due to ankle injury. Mavericks failed to make the playoffs. But some writers noticed him after he make six double-double in the last matches of league. Main importance of this season for team and Nash was Dirk Nowitzki's high performance, Michael Finley's great performance and team's new owner Mark Cuban's positive energy.
2000–01 season in Mavericks was the breakout season of Steve Nash. Nash entered the season with a great performance. His assists, shoots and offense ability was taking the team and players like Nowitzki, Juwan Howard and Finley high. They lost to Spurs in Western Conference Semifinals but all NBA writers agreed that a new legendary team is coming.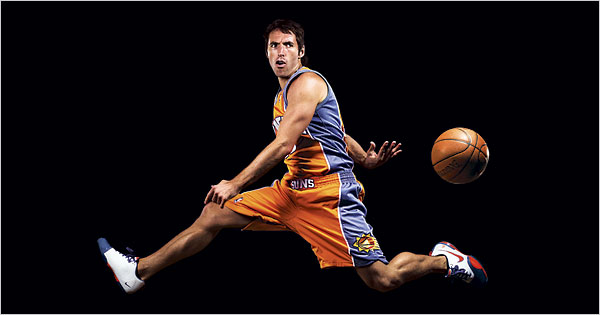 2001–02 season in Mavericks was the "Big Three" season of Finley, Nash and Nowitzki. They were in commercials, magazines and top statistics. Also Nash went to NBA All-Star Game. It was a surprise that they lost to Sacramento Kings in semifinals. In 2002–03 season, some stars like Antoine Walker and Antawn Jamison joined team but it created problems so Nash lived a problematic season. After 2003–04 season, Nash became Free Agent, he wanted to sign Mavericks again but Cuban doesn't want to pay him high. So he signed to Phoenix Suns. When Nash arrived, team was consisting on young but talented players like Shawn Marion, Amar'e Stoudemire and Joe Johnson. After a bad season, Coach Mike D'Antoni set the tactics for Nash and Phoenix played one of the unforgettable seasons and team plays of NBA. They made 62–20 and 110.4 per-game average. Since 2012 Nash played for Phoenix Suns, he has never seen a championship but always became one of the most inspiring players. In July 4, 2012 Nash signed to Los Angeles Lakers.