Stuart Little is an adaptation of popular novel Stuart Little by E. B. White. Movies on the series includes computer animation and live-action. M. Night Shyamalan made the screenplay of movies. First movie of series is released in 1999 and directed by Rob Minkoff. With first movie, it nominated for Academy Award on Best Visual Effects but it was the year of Matrix. Voices of characters were the most popular names of 2000s as Michael J. Fox, Geena Davis, Hugh Laurie and Jonathan Lipnicki. All movies on the series were gained box office success. How many Stuart Little movies are there?


There are 3 movies in the Stuart Little series. First movie is set in 1999 and main story is about "Little" family and family cat Snowbell. Stuart feels outside of his family because of some events in the house and they go into an adventure. Opening week of Stuart Little was also the opening week of Matrix but Stuart Little gained commercial success and placed #1 at first week. Its gross was $15,018,223. US and Canada total gross of movie 1 was $140,035,367 and international gross was $160.1 million. It was one of the first animations with over $300 million gross worldwide. Also there's a Gameboy game "Stuart Little: The Adventure Home" for movie.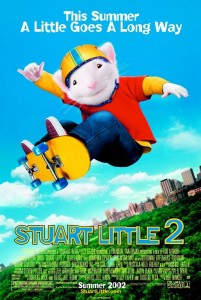 Second film Stuart Little 2 is released in 2002. Movie is directed by Rob Minkoff again and cast was same. Film was a sequel to first film and script added some new characters based on Stuart Little novel. Story was setting three years after first story. Everything starts when Stuart Little started to ask himself about his soccer ability. Movie gained both commercial and critical success. Rotten Tomatoes gave %81 positive reviews and it's rare for such children based animated movies. Also it nominated for many awards and won "Visual Effects Society Award" After the success of movie, Stuart Little 2 video game is released for PS, Game Boy Advance and Windows platforms. Soundtrack album of movie is including names like Celine Dion, Mandy Moore, Gilbert O'Sullivan and Nathan Lane.
Series is finished with "Stuart Little 3: Call of the Wild" in 2006. It's a direct-to-video movie. Mainframe Animation created the scenes and Sony Pictures Entertainment made all distribution. It's firstly released on international market in 2005 and then released in US market in 2006. Movie is totally computer animated. Story is about Stuart Little and his family's camping experiences. Voices of Michael J. Fox, Geena Davis and Hugh Laurie is used on the movie. Movie couldn't gain the success of first two movies. Imdb note of movie is 4.2 and Rottentomatoes note is %45.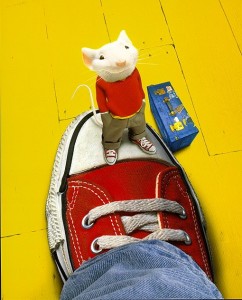 There were some effort for the new movie of series but it's still on the production period till 2005. According to rumors, Warner Bros decided to produce a new movie on the series but there were some problems on the director and then company halted the process in 2008.
Also there were movie based discussions on 2000s because of novel's usage on movie. Some writers claimed that this kind of adaptation is harming the book's reputation. Also changing the character attitudes of the novel was controversial. After second movie and its lovely character Margalo, there were no signs of Margalo in the third movie and even it didn't mentioned.
Series is also became the news on magazines by changes on cast. Corey Padnos's replacement to Jonathan Lipnicki was talked more and company announced that replacement is made because Padnos is too old for George's voice. Also Nathan Lane is replaced to Kevin Schon but company didn't made any announcement for it.