Star Trek is created by Gene Roddenberry and today CBS has its all rights. First release of franchise was Star Trek: The Original Series in 1966. After Original Series' success, many spin-off and movies are produced. Nearly all of them won some Emmy Awards, Academy Award and Hugo Awards. Gene Roddenberry planned the story first as the James T. Kirk's adventures but then named the franchise as Star Trek. He planned the story as a morality tale and according to some of his friends; he took Jonathan Swift of Gulliver's Travels as a model to Captain Kirk. It's now a modern cult phenomenon of the visual history. How many Star Trek movies are there?


There are 12 movies in the Star Trek Franchise. First movie of franchise was "Star Trek: The Motion Picture." It's released in 1979. Paramount Pictures produced the movie as a sequel to Star Trek TV series. It was after cancellation of Star Trek Series in 1969. Producing started in 1970s but cancelled two times. After box office success of movies like Star Wars and Close Encounters of the Third Kind, Paramount decided to produce Star Trek movie and hired popular director Robert Wise with $15 million. Star Trek fans are disappointed with movie and criticized it. Movie made $139 million gross.
Star Trek II: The Wrath of Khan is released in 1982. After failure of Star Trek Motion Picture as a sequel, Paramount forced series creator Gene Roddenberry to create a new story. In the first day of release, Star Trek II: The Wrath of Khan started to gain critical and box office success. It earned US$97 million worldwide and it was a record for first day release gross. Also movie took positive critical reaction from various writers and audience genres. Only negative reaction on movie was about lack of special effects but Star Trek II: The Wrath of Khan is accepting as one of the best films in Star Trek franchise history and it also renewed interest of the problematic series.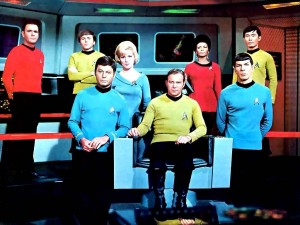 "Star Trek VI: The Undiscovered Country" is released in 1991 and it was after the Star Trek V: The Final Frontier's commercial failure. Famous cinematographer Hiro Narita and director Nicholas Meyer shaped the movie to a darker and dramatic mood. Especially problems between crew and Paramount became the top news for magazines. The Undiscovered Country gained box office success and positive reactions. After $96,888,996 gross worldwide, movie also won two Academy Award nominations. Box office is also boosted because of Gene Roddenberry's death soon after premiere of movie.
Star Trek: Nemesis is released in 2002 and it was the last time all Star Trek: The Next Generation television series cast was seen on a Star Trek movie. It couldn't gain commercial or critical success. Some writers labeled the movies as the least successful one in the Star Trek Franchise history. One of the reasons Star Trek: Nemesis's box office failure was its release time. Star Trek: Nemesis is released with the important movies like Harry Potter and the Chamber of Secrets, The Lord of the Rings: The Two Towers and James Bond film Die Another Day.


"Star Trek" is released in 2009. It became top news in movie sites from the first production day because Lost's director J.J Abrams was the director of movie also. Movie gained critical and box office success. Especially in character development category, movie gained positive reviews. Gross of movie was $385.7 million worldwide. Movie is nominated for various awards including Academy Awards. Movie was compete in Best Makeup category and it became the first Star Trek movie won Oscar.