Speakers' corner is an open public speaking area. One can talk about what he wants in here, he can also debate and discuss about a topic. It's free to speak everything you want, only event that police stop the talk is big complaint from others or swearing on speakers' corner. Origin of Speakers' corner is English but there are lots of speakers' corners around the world. How many Speakers' corners are there in the world?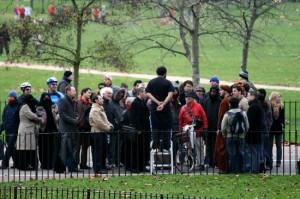 The most famous Speakers' corner is in Hyde Park, London. Also there are speakers' corners in Finsbury Park, Kennington Park and Victoria Park and Clapham Common in England.
Speakers' corner of Australia is on "The Domain Park" in Sydney. Speakers are coming to here on every Sunday since 1878. Also "State Library of Victoria" is using as Speakers' corner.
In Canada, Speakers' corner is located in the north Shore of Wascana Lake. Kitchener, Ontario also has a special place called Speakers' corner since 1980s.
Holland has also speakers' corner in Oosterpark, Amsterdam. There's also an online camera and people may watch the situations all over the world.
In Singapore, Speakers' corner is located in Hong Lim Park. People need to take police permit for long speaks. Also online registration is possible for speaking without police permit.
There are lots of books and movies about Speakers' corner around the world. The Speakers is the most famous one. It's also seen on TV in Religulous document of Bill Maher.